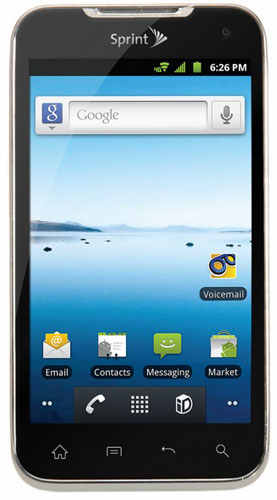 There have been quite a few smartphones revealed at CES 2012, and one of the least eventful was the ecofriendly niche, however it was still represented, even if only by two smartphones. The first one was Samsung's Exhilarate 4G LTE for AT&T's network, which we've already talked about, and the second one is the LG Viper – a phone heading for Sprint, also featuring LTE support and all the features you'd expect from a decent modern smartphone, in a housing that's made of 35% recycled materials – not exactly impressive (it's nowhere near Samsung's 80%), but it's still a step in the right direction.
The LG Viper looks pretty good and feels solid, although it's a bit thicker than the competition, but for a mid-range smartphone it's alright. It has no special exterior features that would make it stand out from the crowd, but it's not ugly either, with a chrome accented frame around the sides, a brushed metal finish on the back and the big display on the front.
The display is LG's own 4 inch NOVA unit, which is supposed to be brighter than other LCD displays while consuming 50% less power. It works quite nicely and as advertised, and the visibility in direct sunlight is pretty good, as well. The resolution is a nice 800×480 pixels, and although it could be higher, it's good enough for any tasks, including Web browsing and watching videos.
The phone is powered by a dual core 1.2 GHz Tegra 2 processor, which is still powerful enough to take on any apps and games, despite the onslaught of faster dual cores and the new Tegra 3 quad core platform. The integrated GeForce GPU is exceptionally good at games and any 3D/graphical apps, but the 512 MB of RAM that accompany the chipset is a bit on the low side, although with Android Gingerbread, it's more than enough.
The other hardware specs of the LG Viper are all that you'd expect from a modern smartphone: besides the 4G LTE radio, you'll find a Wifi N and Bluetooth adapters, GPS, DLNA compatibility, a 5 megapixels camera on the back with support for 720p HD video recording, a 1.3 megapixels camera on the front that should be great for video calls and VoIP chat, a 3.5 mm audio out jack, a micro SD card slot for your storage space, and even an NFC radio on the back, which means that you can use Google Wallet, Square and other payment methods that need it.
The handset will be running Android 2.3.7 Gingerbread out of the box, as I already mentioned, and there will be no interface customizations – you will get the vanilla Android experience – which in my opinion is great. Gingerbread is a great OS on its own, but if you're hoping for an upgrade to Ice Cream Sandwich, I don't think it's going to happen on the Viper – it's a low-mid range budget handset, after all. Still, it will probably be possible to get Android 4.0 with a custom ROM, which is even better.
There was no work about the pricing of the LG Viper, but Sprint representatives say that the phone will be available by spring 2012, and since it's a budget device, I don't think it's going to cost more than $100 – something like $50 with a contract is more likely.