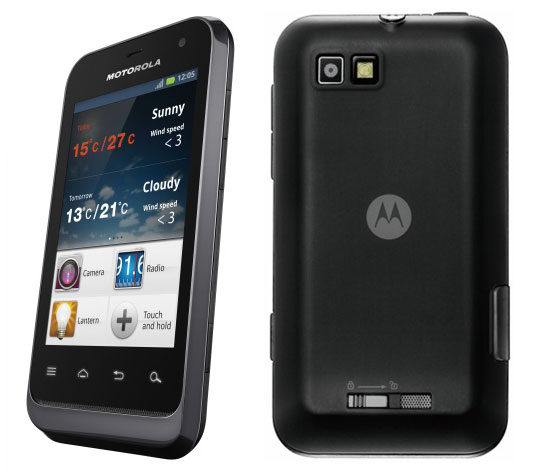 Motorola started this year quite successfully with the Droid 4 and RAZR Maxx smartphones, and it seems like they want to continue the trend. After accidentally stumbling upon the great niche of rugged smartphones, the company has been banking on it to increase their profits, and the DEFY and DEFY+ handsets were quite successful with people who needed a relatively powerful phone that is also protected from the elements of both nature and their pockets.
This year, Motorola has announced a continuation of the line, with the DEFY Mini spearheading it. As the name suggests, the DEFY Mini is a smaller version of the DEFY, and it brings the same rugged features as its predecessors in a compact and affordable handset. However, the performance and hardware specs of the phone aren't what you'd call high end – in fact, they're pretty low end, and I'm not sure whether most people would agree to the compromise for the sake of having a more durable smartphone.
On the outside, the Motorola DEFY Mini has a relatively standard look, with the most prominent difference from other phones being the speaker grill, which is located on the front right below the display and touch navigation buttons – an interesting decision on Motorola's part, and it's practical as well, since I've seen people complaining about their phone ringer being silenced when it's on a couch or in their pocket.
The display is a small 3.2 inch unit with a resolution of 480×320 pixels, which is at the low end of what I'd call comfortable, but it's definitely useable. Web pages will be a bit cramped, though. On the back you'll find a small 3 megapixels camera for photos and videos (no support for HD recording here), and you'll also notice that the back cover, ports and the frame are all tightly sealed to prevent water from leaking in. Speaking of which, the DEFY Mini is resistant to scratches, dust, water and sun – pretty much all the natural enemies of a smartphone, and that makes it a great choice for anyone working in the field.
But you'll have to make do with a slow 600 MHz processor if you want the DEFY Mini – frankly, it's not all that bad, at least at this resolution, since the original Motorola Droid still works pretty well, even for videos and Web browsing. There's also the 512 MB of RAM that will help keep things smooth when loading a lot of apps (unlike the 256 Mb on the OG Droid, which slowed it down considerably). Still, a 1 GHz processor would've been very nice.
The phone's storage space is provided by the user with a micro SD card, which means that you can have up to 32 GB of memory for all your files – that's more than some high end phones offer these days. The other hardware specs are nothing special: the phone has all the standard features, except a HDMI out port, which is understandable on a budget device.
Interestingly, the phone will be shipping with Android Gingerbread – it's certainly not a bad OS, however Ice Cream Sandwich would've been nice. But on the single core 600 MHz processor, maybe the older version is better. Of course, there's Motorola's MotoBlur interface – love it or hate it, it will stay with you for as long as you have the phone, as it can't be removed.
The DEFY Mini looks like a pretty good deal, but there are still no details available about the pricing – it shouldn't cost more than $50-70, though.