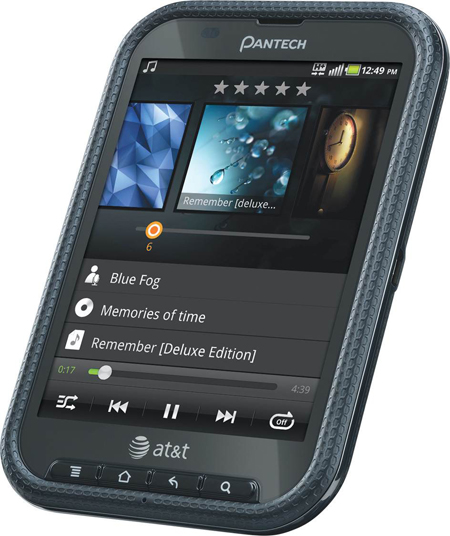 The smartphones market sure has grown a lot since the iPhone single handedly revolutionized and breathed a new life into it at the end of 2007. Among the dozens of different handsets that you can find on sale nowadays, there are quite a few unique models that catch your attention with some different design or feature.
One thing that has remained practically the same among smartphones is the screen format – the iPhone uses a slightly wide 3:2 format, while most Android phones use either a 16:10 or 16:9 (the latter is for newer phones – see the Galaxy Nexus for example) format, which allows manufacturers to make the phones pocket-friendly, with a nice and big display and yet easy to hold with one hand (although that's changing). So it's pretty unusual to see a 4:3 format screen, and that's exactly what Pantech, one of the largest phone manufacturers in South Korea, has to offer on AT&T's network, with the Pocket smartphone.
Despite its name, the Pocket is neither a pocket, nor pocket friendly, with its 4 inch, 4:3 format, 800×600 pixels display making the phone a whole 78mm wide – that's wider than the HTC Titan, LG Nitro HD, Galaxy Nexus or any other device with a 4.X" sized screen. In fact, it's just 5mm short of being as wide as the Galaxy Note, which is an achievement for sure, but not a good one. The extra screen space makes it sort of easier to read Web pages, books and articles, however, and that may be worth it for some people (individuals with big hands, possibly?).
If you can get over that issue, the Pantech Pocket is a pretty good phone otherwise. It is only 114.7mm long and 11.3 mm thick, and the whole body is covered in a rubberized "skin", which is more heat, scratch and shock resistant than your run off the mill plastic, and combined with the tempered glass on the front, makes the phone a great choice for field workers, people who use their phone heavily throughout the day or those who are prone to dropping their handset every so often (the rubber skin can even protect the display, since it's sunken by a few mm, guaranteeing that it won't hit the ground glass-on).
The performance is pretty decent, as well, although it's nothing special: it uses a 1 GHz single core CPU with 512 MB of RAM, which is pretty much standard issue for budget phones, and while the chip is a bit slow in Web browsing and opening large files or HD videos, it's perfect for scheduling tasks, writing emails and messages, viewing Twitter feeds, listening to music and doing other normal things.
The other hardware features are also pretty normal: there's your usual Wifi, Bluetooth, GPS, accelerometer, magnetometer, proximity and other sensors, 5 megapixels camera on the back (no front facing unit, though), 3.5 mm audio jack and micro USB port and 4G radio (up to 21 Mbps download speeds).
The phone runs Android 2.3 out of the box, which is more than enough for most people, and I believe there won't be an update to Android 4.0, ever. The phone is too slow for that, and it being a budget device doesn't make it better. However, I've yet to see an app or video file that doesn't run on Gingerbread, and I believe the OS will be good enough for at least a couple more years.
For a $50 price point with a two year contract, the Pantech Pocket is a pretty interesting offer, and it would definitely be a good choice for those who need a durable phone with a big display, although the 4:3 format is more of a drawback than an advantage for most people.