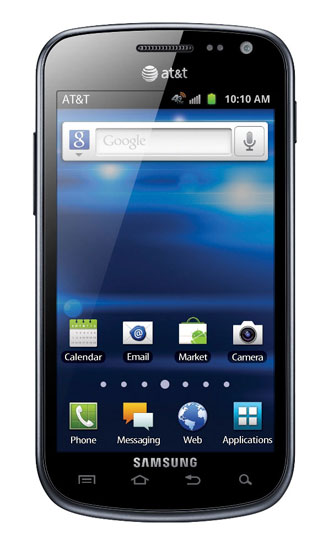 Of all the possible niches, smartphone manufacturers seem to have forgotten about the whole "green" movement. Granted, the first few eco-friendly smartphones were pretty disappointing in every aspect, so they weren't popular with the users, but it's not the inherent fault of their greenness – it's that manufacturers thought that serious people don't have time for ecology considerations, and since the phones were made of recycled materials, they were also equipped accordingly, with low end hardware.
That was the wrong approach, and now we're finally starting to see the right one. One of the first eco-friendly smartphones with 4G LTE and a decent feature set is the Samsung Exhilarate, which is coming to AT&T sometime this year (in the following months, according to the company).
Made from 80% recycled materials and featuring a 4 inch Super AMOLED display
The new handset looks surprisingly good, considering it's made from 80% recycled materials, and it shouldn't come as a surprise if it was pretty sturdy, as well, because plastic is very resilient (that's why it's not friendly for the Earth – it just doesn't degrade) and can easily be melted and molded multiple times, so the end product is no worse than one made completely from "new" plastic.
There's not much else known about the main platform hardware, but the 4.0 inch Super AMOLED display (with an undisclosed resolution, but I'm guessing it will be 800×480 pixels) and 4G LTE radio indicate that the phone will be well equipped – it will most probably have a dual core processor and 768-1024 MB of RAM, but in a worst case scenario, it could be equipped with a fast single core CPU and 512 MB of RAM, which would still make it pretty decent (the Lumia 900 seems to have no issues running on a second generation single core 1.4 Ghz Snapdragon and half a gigabyte of RAM). There should also be 8-16 GB of onboard memory, judging by the trend, or a micro SD card slot for storing all your files.
All the hardware features you'd expect and Android Gingerbread for $50 with a contract
Other known hardware specs include a 5 megapixels rear facing camera that will shoot HD video, a front facing 1.3 megapixels camera for video calls, the usual Wifi N, Bluetooth, GPS, 3.5 mm audio jack, DLNA compatibility and of course, the speedy 4G LTE radio for AT&T's new network.
The Samsung Exhilarate will be running Android 2.3 Gingerbread, and there's a slim chance that it will be getting an Ice Cream Sandwich update, although I would not count on that. Samsung will most likely install their custom Touch Wiz interface, as well, which is pretty good, although not as good as the default Android interface, but that's just my opinion.
The price of the Exhilarate is expected to be about $50 with a contract, which is a pretty low price for the features, and with a Super AMOLED display, eco-friendly build and 4G LTE radio, the phone should be popular with a lot of people. We'll just have to wait and see if it's as good as promised when it finally launches.