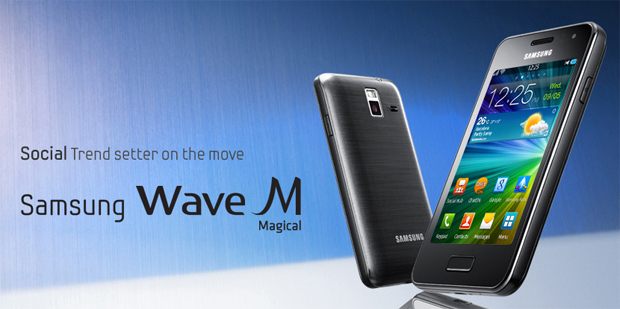 Samsung is one of the most prominent manufacturers of Android phones and tablets, but for some reason, they still keep their old bada OS around, and as of late, it's been getting better and better at what it's supposed to do – power a phone and provide the user with everything he/she may need.
As of the latest version 2.0, bada OS looks pretty much like Android on Samsung phones, since it's using their own Touch Wiz interface, and it has support for third party apps, can browse the Web, play games, video and music and do other things pretty damn well. In fact, the Samsung Wave 3 is actually better in some aspects (mostly build quality) than the new Galaxy S2, believe it or not.
But the Wave 3 is on the upper level when it comes to cost, and as bada OS is mostly a simple operating system for feature phones, Samsung ought to include it on a budget device, as well. And they did just that on the Samsung Wave M – an affordable handset for anyone who doesn't want to pay a lot and doesn't need the complexity of Android, but still wants a decent phone for everyday use. People switching from cell phones will find it a good purchase, as well.
The exterior of the Wave M reminds a lot of Samsung's other phones, especially the Galaxy S2, and it has the same navigation buttons layout below the display, the same rectangular shape with rounded corners and the same overall feel, with the device being made mostly out of plastic, with a protective glass covering the display and a snap on plastic cover on the back.
The display is a well sized 3.65 inch LCD unit, which makes the phone smaller than the Galaxy S2 and any other big screen monster, but sadly its resolution of 320×480 pixels just kills the experience – and at this size, it's pretty easy to see the individual pixels, meaning that the picture quality is also suffering.
The other hardware specs seem to be fine, though – aside from the usual Wifi, Bluetooth, GPS combo and a bunch of sensors for normal operation, you'll also find a 5 megapixels camera on the back with LED flash (no HD video recording though, the maximum resolution is 320×480 pixels), a VGA camera on the front for video calls, an FM Radio, and 3G support for speeds of up to 7.2 Mbps download and 2.0 Mbps upload. The storage space is provided by the user, with the phone having only 150 MB free for apps, but with a 16-23 GB micro SD card it will be a while before you'll need to worry about space.
What you will worry about immediately though, is performance. While the 800 MHz processor that runs inside the Wave M is pretty good at running most apps you can find, playing video, music and opening documents and Web pages, it will most likely get pretty slow a lot of times when loading anything intensive.
The bada OS 2.0 is relatively good for a feature OS, especially compared to the previous versions, but with the marketplace being pretty much unknown, you won't find many good apps on it, and you'll have to make do with the ones that Samsung installed from the factory.
Overall, the Wave M is great if you're switching from a cell phone or want something very cheap and very simple to carry in your pocket and not be afraid to break, but if you want a phone for daily use that can do a lot of things you'd usually do on a laptop, then it's definitely not the choice for you.