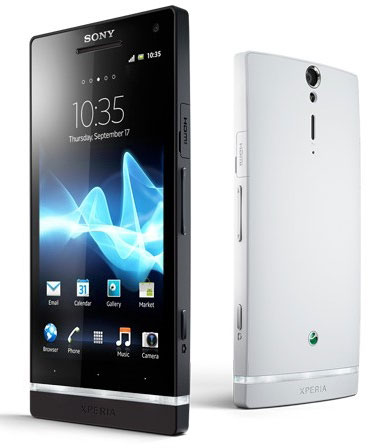 With Sony finally gaining full control of their brand name, it seems that they're headed into a new, bright future with their mobile devices. Along with the Xperia ion, the company also announced and demonstrated the Xperia S – a high end smartphone with a HD display and a new design that looks quite different than all the previous models.
The new phone looks… like a brick, but a very stylish brick 🙂 – even though it has a rectangular shape with sharp corners, the overall look and feel gives it an air of style and elegance, just like it was the case with the Xperia Arc. Sony sure knows how to design stuff, and the Xperia S is yet another successful product to see the end of their conveyor lines.
The hardware specifications could've been better for a new device, but Sony has traditionally steered away from creating the latest and greatest, focusing instead of providing a sort of timeless piece that is more of a lifestyle accessory than a housing filled with chips when it comes to their smartphones.
Still, the 1.5 GHz dual core processor that's inside the Xperia S is not to be laughed at – it's the fastest in the stable, even though the new Tegra 3 smokes it in benchmarks. In everyday use and even most of the resource intensive apps on the marketplace, you will hardly see a difference, and with 1 GB of RAM, everything is smooth and fast all the time.
The 4.3 inch display is simply amazing with its 1280×720 pixels resolution, and Sony's own Bravia Mobile engine (basically a set of software mods to make the colors and contrast better) does a great job of getting the most of the LCD technology. Continuing the high quality imaging systems theme, Sony has equipped the Xperia S with a new 12 megapixels main camera, which uses an updated Exmor R sensor for the best light sensitivity possible, and of course, supports 1080p video recording. The front facing 2 megapixels shooter also supports HD video, albeit only in 720p resolution – it sure is going to come in handy for Skype HD video calls.
The other hardware specs are everything you'd expect from a newly announced high end smartphone: Wifi N, Bluetooth 3.0, GPS, DLNA support, HDMI out, a 3.5 mm audio jack, and more. Instead of going with an internal Flash chip, Sony chose to let the users provide their own storage space with a micro SD card – and hopefully, the phone will support the newer 64GB+ microSDXC cards in the future (at the moment, 32 GB is the upper limit).
The most interesting thing about the Xperia S, which also sets it apart from the Xperia ion, is the lack of a 4G LTE radio. I suppose that may be a bad thing for those who want the fastest data connections speeds possible, but in my opinion HSPA+ is fast enough, especially since 4G LTE coverage is so abysmally small.
The Sony Xperia S will be running Android 2.3 Gingerbread out of the factory, which may seem a bit odd since the release date won't be for at least a couple of months, but an update to Ice Cream Sandwich is guaranteed to be available, so I guess it's not that big of a problem. The Timescape UI may not be to everyone's liking, though – I think it's pretty cool, but a lot of people don't like it. Thankfully, unlike MotoBlur, you can easily remove it.
The Xperia S is already available for pre-order in the UK for a hefty 450 pounds (~$700), and it should be coming to the US soon enough, although no specific date has been announced yet.