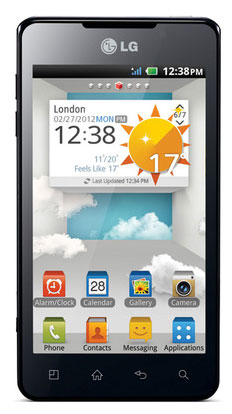 Despite what various manufacturers are saying, 3D isn't really catching on – at least not as fast as they would want it to. It's slowly coming to new HDTVs, and it's been tried on laptops, tablets and of course, smartphones, but it kind of went away after a few devices. One of the few smartphones to have a 3D display and to actually enter production was the LG Optimus 3D, which you might remember from last year.
Well, apparently, LG thinks 3D is a niche worth fighting for, as they've got yet another 3D smartphone in line that will be officially announced during this year's Mobile World Congress in Spain. The device is called the Optimus 3D Max, and unlike the other Max(x) on the market, it'll most probably have an abysmal battery life.
Judging by the mockups and snapshots, the Optimus 3D Max will look just like any other slab smartphone, with not much to make it stand out. While that's not necessarily a bad thing, it would be nice to see something new in the smartphone's exterior design once in a while – I suppose that LG is leaving the "wow" effect to the display. The 3D Max is touted as thinner and lighter than its predecessor, though, and that certainly seems to be the case: the phone is now 9.6 mm slim and 148 grams light, which is in line with most other non-3D phones on the market.
The display of the Optimus 3D is a 4.3 inch LCD unit with LG's own NOVA technology for a higher brightness and lower power consumption (first seen on the Optimus Black), however it will have the same old resolution of 800×480 pixels, which means that in 3D, you'll be seeing 400×480 pixels in each eye – not exactly successor-worthy, I think.
The other hardware specs are pretty much similar to all the other flagship phones on the market. There's your standard Wifi N, Bluetooth 3.0 and GPS adapters, a nice selection of sensors, DLNA support, 8 GB of internal storage space (and I hope it has a micro SD card slot), HSPA+ radio, and a dual 5 megapixels cameras array for 3D photos and video recording, plus a front facing 1.3 megapixels camera for video chat and whatnot. There's also an NFC radio with support for LG Tag+ – LG's new stickers that can be read with NFC and perform various actions based on the input.
Performance wise, everything seems to be in order with the Optimus 3D Max – there's a Texas Instruments OMAP 4430 chipset inside, with a dual core 1.2 GHz processor and the PowerVR SGX540 graphics adapter – more than enough to run any apps and games, and it's also fast in Web browsing, video playback, document editing and any other tasks. There's also a full gigabyte of RAM inside to aid the processor and make things smooth even under the heaviest of loads. The 1520 mAh could be a big problem – with a dual camera array and 3D display (even a NOVA unit), it can't last longer than 6-7 hours, for sure.
The Optimus 3D Max will initially be powered by Android 2.3 Gingerbread, which is quite a weird decision seeing as Ice Cream Sandwich is out, but an update to ICS will be available right away, so it's not that much of an issue. The phone will be officially announced during MWC, so stay tuned for details in a couple of weeks.