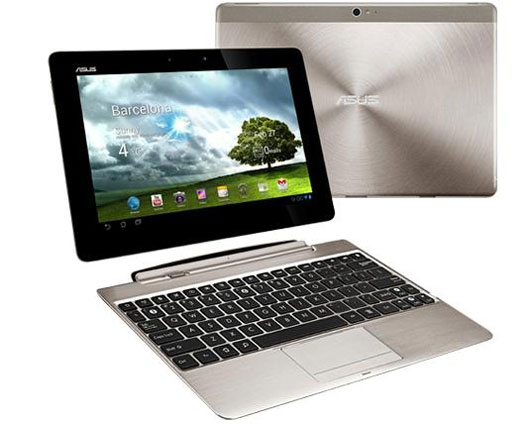 During today's Mobile World Congress, Asus introduced two new tablet series and calls them Transformer Pads. Infinity 700 Series caters to the high-end market whilst the 300 Series is more stylish and affordable. Both will be shipped in Ice Cream Sandwich.
With the exception of Transformer Prime, Asus has been calling their tablets Eee Pad Transformers since their launch a year ago. The name was drawn from Eee PC laptops and notebooks. Eee Pad Transformers are tablet computer hybrids that initially ran Android 3.1 Honeycomb before getting an Ice Cream Sandwich update. These tablets can be docked in keyboards and alternatively used as laptops.
Asus has dropped off "Eee" and calls their tablets "Transformer Pads" instead, introducing two series along the way. They will run Ice Cream Sandwich, the tastiest Android OS by far.
Asus Transformer Pad Infinity 700 Series
Infinity 700 Series (TF700T) are high-end tablets with 10.1-inch screens, 1920×1200 Super IPS+ LCD, and Gorilla Glass 2 display. They have 1GB RAM and HDMI ports, just like any standard laptop. The rear camera is 8MP with an f/2.2 lens. The front-facing camera is impressive at 2MP. A keyboard dock is included in the package.
Asus is pushing out WiFi-only and LTE versions of this tablet computer series. Infinity 700 Transformer Pads with Tegra 3 processors will be WiFi-only models. Those powered by Qualcomm's Snapdragon 4 processor get an additional LTE radio, allowing 3G and 4G connectivity. Users who want to take advantage of 4G speeds should go for Transformer Pads on Snapdragon 4.
Asus Transformer Pad 300 Series
Transformer Pad 300 Series is more affordable and stylish than the Infinity 700 Series. The line will feature NVIDIA Tegra 3 quad-core processors. Battery life is quite good at 10 hours but could last 15 hours when attached to a keyboard dock. It will have the same 10.1-inch screen display like Infinity 700 Transformer Pads, with a reduced resolution of 1280×800 IPS.
Asus is selling the line in three colors – red, blue, and white. WiFi and LTE versions will be pushed out as well for variety.
Quite honestly, I never imagined myself using a tablet computer. But the thought of Transformer Pads running on Ice Cream Sandwich is a delectable treat. Priced competitively with regular tablets, I'm not surprised if these hybrids get more attention and sales this year. Buying two gadgets – a tablet and a computer – for the price of one is truly a sweet deal with Asus Transformer Pads, even without Android's latest OS.