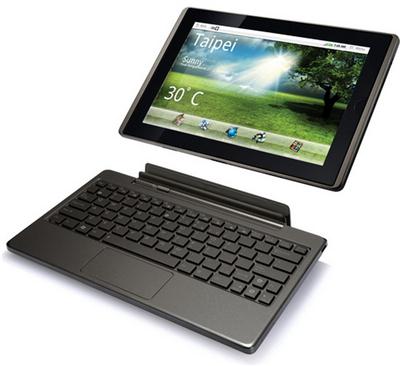 Asus has long been feeding us rumors about their new EEE Pad devices, which are an attempt by them to enter the tablet market. If you remember, the netbook craze was practically started by Asus' own EEE PCs – low cost, low power, ultra compact laptops with custom Linux installs – and tablets are really just a continuation of that trend.
A tablet is excellent for most tasks thanks to the touch screen interface and lack of keyboard, which makes it more portable and easy to handle, but if you want to do some heavy typing and work on more complex projects, a keyboard and mouse (or touchpad) is a must.
Asus knows that and one of their new tablets (two actually, but we'll focus on the better one) has exactly what people need: a detachable keyboard dock that turns the slim tablet into a full-fledged netbook. The device in question is the EEE Pad Transformer – an aptly named and very nice looking Android tablet that will also cost much less than the competition.
The device itself looks pretty much like any other tablets on the market – it has a big 10.1 inch IPS LCD display on the front that uses a nice 1280×800 resolution, it's relatively slim and light at 13 mm and 680 grams, respectively, and of course, it runs Android 3.0 Honeycomb, which is currently the best mobile OS on the market, both in looks and functionality, although the number of apps there are for it is pretty limited at the moment.
The hardware specs are at a high level, as well, with the NVidia Tegra 2 dual core platform powering everything, assisted by a full GB of DDR2 RAM – more than you'll ever need on an Android tablet. There's a 5 megapixels camera on the back that supports HD recording, as well as a small 1.2 megapixels unit on the front for video calls. The Transformer has two stereo speakers, which should improve the audio quality and bring it closer to that of a netbook or laptop.
Other specs are pretty much the standard stuff you find in other tablets and smartphones: Wifi N, Bluetooth 2.1 EDR, gyroscope and accelerometer, compass, GPS, and other goodies.
Of course, the main accessory for the EEE Pad Transformer is the keyboard/touchpad dock, which also houses a battery that extends the total work time from 9 hours to 16 – that's pretty darn impressive, and more than enough to get you through a full day of intensive work.
The price is also an important factor – the base 16 GB Transformer tablet will cost only $400 according to a leak from Best Buy – that's pretty low for such a device! The keyboard dock will go for another $100 or so, which is also acceptable. If the 32 GB version is more than $100 more expensive, it might not make sense to buy it, as you can spend $50 and get a 32 GB micro SD card (plus another one in the dock if you need!), bringing the total memory of the device to 48 GB (or 80GB when docked).
The EEE Pad Transformer sure looks attractive specs-wise, and if the price is as low as they say, it will be a great bargain purchase for anyone!