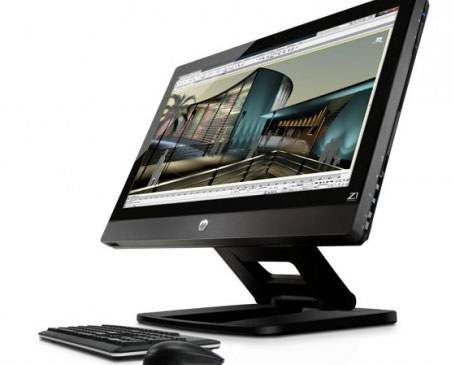 All-in-one PCs are slowly replacing the good old towers on our desktops, and that's only the case if we can't manage to find a suitably powerful laptop to replace our aging PC. It's a tough market to be in nowadays, but HP's latest workstation sure has found its place among professional machines that have all the power needed to run even the most intensive software – the Z1 Workstation is really impressive, inside and out.
Exterior design
HP has obviously put a lot of thought into the design of the Z1. The computer looks very similar to all the other AIOPCs on the market, with the display being the housing for all the hardware and a single stand holding it in one place on your table. But the details are what impress the most: the Z1's 27 inch display (2560×1440 pixels resolution with white LED backlight) is covered with a sheet of glass, and the back is made out of brushed aluminum – it's almost sad that you never see it in everyday work.
The stand provides a wide degree of freedom – the display can be lifted up and down by 10 cm, tilted backwards and forwards by 25 degrees and folded flat for easy transportation and access to the internal components. Underneath the stand, there's a standard VESA mount, should you need to hang the display on a wall, for example.
Internal hardware
One of the most interesting features of the HP Z1 Workstation is the easy access to the internal hardware and the way it's all built and arranged. Once you fold the computer flat, you can open the housing by lifting the display just like you would a car's hood (with a gas spring and all) – very convenient and easy. Inside you'll see something that is definitely worthy of some sort of award – everything is easily accessible and neatly arranged, and any upgrade is just a couple of minutes of work, tops.
HP always takes the Workstation moniker very seriously, with the Z1 featuring server-class hardware and certifications, although the cheapest configuration has consumer-level hardware, which makes it attractive to home users, as well. The top configuration, however, is a real beast: you get a Xeon E3-1280 quad core processor, 32 GB of ECC DDR3 1600 MHz memory, the NVidia Quadro 4000M graphics adapter and up to three hard drives and/or SSDs, depending on what you prefer (there are 2×2.5 inch slots and 1×3.5 inch hard drive slot). That's a lot of processing power in there – definitely worthy of a workstation class computer.
Other hardware specs include 1 PCI-Express X16 slot, 3 miniPCIe, integrated Bluetooth and LAN, a 1080p HD webcam, Blu-Ray writer, 6 USB ports, 1 Gigabit LAN port, a 6-in-1 card reader, audio out jacks and a Display Port for the second monitor (yes, sadly it doesn't support two extra monitors).
Software
HP offers the Microsoft Windows 7 Professional and SUSE Linux Enterprise operating systems as pre-installed options, but you can install your own OS, obviously, which is the better course to take if you don't need all the bloatware that the company has no doubt included in the package.
The Z1 is a pretty expensive monster when configured with the Xeon and Quadro, but its base configuration (which uses a Core i3-2120 processor with integrated Intel graphics, 8 GB of RAM and one hard drive) starts at $1899 – not that bad considering what you're getting.
image source: nvidia