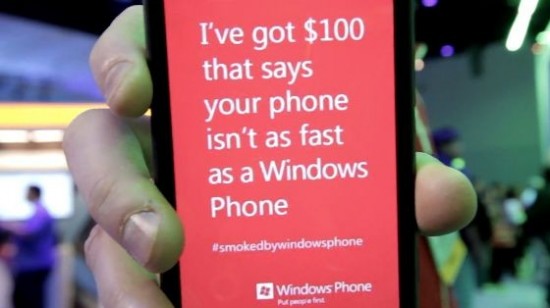 You can win $100 from Microsoft. All you have to do is prove that your iPhone or Android is faster than a Windows Phone.
The campaign was launched by Microsoft in an effort to increase their visibility among smartphone consumers. Through it, they want to prove that a Windows Phone is faster than any iPhone or Android. The campaign started this morning and a video featuring Microsoft preacher Ben Rudolph was posted online. It rolled out on the official Facebook Fan Page of Windows Phone.
In the challenge, Ben "The PC Guy" coaxes Android and iPhone users to post photos on Facebook, find music on their phone, and do all other things we use our smartphones for. The challenge – you must be able to do it faster than he does and you will win $100 if you do. As a bonus, you will get an ego boost. After all, you have the best smartphone in the world. But if Ben proves his Windows Phone is faster than whatever you're holding, not only will you lose the challenge but have your ego dragged down too as you hold up a sign that says #SmokedByWindowsPhone.
Personally, I never owned a Windows Phone or held one in my hand. But because it's being ripped off by launcher themes for Android, it does make me curious. I am also intrigued by how confident Microsoft is with the Windows OS and lets phone manufacturers bow down to their demands. Several others have raved about Windows mobile OS too. Lance Ulanoff who is editor-in-chief at Mashable quoted Windows 7 as a "possibly great mobile platform" late last year. So I guess when taking all these into account, Windows Phone does have a potential to rise to the top.
For now, that's all it is – a potential. I can see myself buying a Windows Phone a few years from now. Just not now. The thing is, Windows Phones have very few dedicated apps; Android and iPhone have hundreds of thousands.
Besides, who needs to take a photo or find music in lightning speed? In defense of iPhone and Android users, with some tweaks they can access their cameras and music from the lock screen. If they did that before taking the challenge, they would've won $100 and proved their phone is way better than Nokia Lumia 800 or some other Windows Phone.
Love it or hate it, you can join the fun and give your two cents on this challenge by using the hash tag #SmokedByWindowsPhone on Twitter. It's a chance for Android and iPhone users to unite and bash what is currently taking up only 2 percent of the world's smartphone market share.