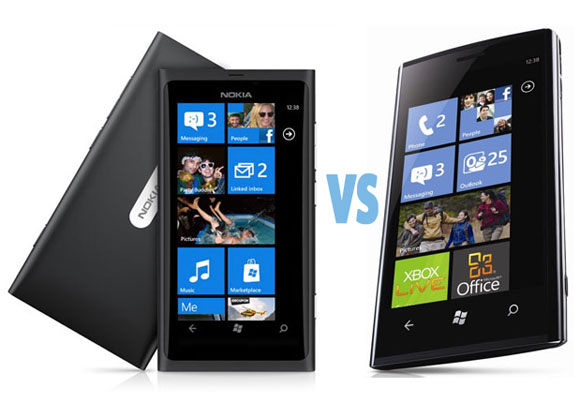 The Nokia Lumia 800 is currently the most popular Windows Phone 7 smartphone, and with good reason – it has a great design, a very nice selection of hardware features under the hood and it was hyped beyond belief before it was released by Nokia, which has partnered with Microsoft to use their OS on all mainstream smartphones that they will release.
But while the first generation of Windows Phone 7 smartphones had a pretty poor selection of handsets, there was one device that stood out – the Dell Venue Pro, which has a great build quality, nice design, great hardware and a very nice portrait QWERTY keyboard that can rival that of a Blackberry. It's still on sale and it's cheaper than ever, so it makes sense to compare it with the most popular smartphone to see if it's a good choice for a first time Windows Phone 7 user.
Design
Sure, the unibody polycarbonate design of the Nokia Lumia 800 is very attractive, but the Dell Venue Pro is no sore loser and in many ways it's even better than Nokia's flagship. Dell's phone is often overlooked based on the name alone – somehow, "Dell" doesn't inspire confidence in the users' minds, partly because of the poor management of the Dell Streak Android phone, but mostly because their consumer laptops have always been known to break and their consumer customer support is pretty bad, as well (their business laptops and support are top of the line, though).
But the Venue Pro is really something – it has a very high quality build, with a lot of attention to the finish. The front has a thick scratch resistant glass, the back cover has a nice pattern engraved on it, the sides are chromed and the top and bottom have rubber inserts to make opening and closing the keyboard easy. The QWERTY keyboard is great, as well. However, all that makes the phone pretty thick (it's a whole 15 mm thick), which contrasts with the Lumia 800's 12mm sleek design.
Hardware features
Both smartphones have a good selection of features when it comes to the hardware. The Nokia Lumia 800 has a beautiful 3.7 inch, 800×480 pixels AMOLED display with Nokia's own ClearBlack technology (basically a darkened layer over the display), which makes the colors and contrast better. Inside the phone, you'll find all the features that should be present on a modern phone, including Wifi N, Bluetooth, GPS, DLNA, HSPA+ radio, 16 GB of onboard storage space and a great 8 megapixels camera with support for 720p video recording.
The Dell Venue Pro is not bad at all, either – it has a 4.1 inch AMOLED display which looks just as good as Nokia's, but with brighter colors and slightly worse black levels. The Wifi N, Bluetooth and GPS adapters are there, as is the HSPA+ radio. The camera is a smaller 5 megapixels unit that also supports 720p video recording, and there's less onboard storage space – 8 GB, however you can upgrade that using a micro SD card (which should not be removed once inserted since Windows Phone 7 uses it as a main drive). That gives the Venue Pro a few points for those who need more storage space.
Performance
Performance wise, the second generation Lumia 800 is faster thanks to its 1.4 GHz Snapdragon processor and Adreno 205 graphics adapter. The Venue Pro only has a 1 GHz processor and the older Adreno 200 GPU. Both phones have the same 512 MB of RAM, though. The difference in performance won't be very visible in everyday use, but the newer games and apps may lag or slow down sometimes on the Dell.
Software
Both smartphones run Windows Phone 7.5 Mango, which they received with an OTA update, and the OS runs great on both smartphones – the animations and transitions are smooth and fast on both handsets. I doubt either of these handsets will get an update to Windows Phone 8, but the Nokia Lumia 800 has the better chance if Microsoft decides that a single core processor and 512 MB is enough for Apollo.
Now, obviously on paper the Nokia Lumia 800 is better, but the Dell Venue Pro is not far behind and the hardware QWERTY keyboard, high build quality and the big AMOLED display are worth considering it. You'll be surprised to see that the Venue Pro is also half the price of the Lumia 800 – that makes it even more attractive, and if you're getting your first Windows Phone 7 handset, you won't be disappointed by the Dell, for sure.