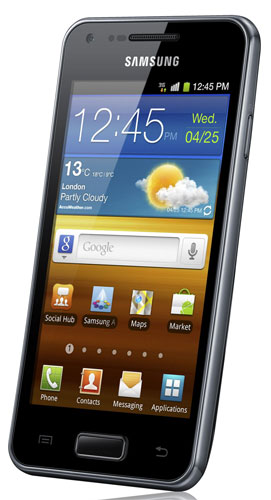 Samsung's Galaxy S line makes up the bulk of Android phone sales, and it has played a big role in making the company one of the Top 3 smartphone manufacturers, alongside with Nokia and Apple. The Galaxy S3 has been pretty much confirmed, and it will be officially announced and demonstrated during a special event sometime this spring, but before that happens, there's another Galaxy S that will be released soon – the Galaxy S Advance.
Exterior Design
The Galaxy S Advance really stands out when it comes to the exterior design – Samsung finally went with a new style that is decidedly different from the previous models, yet still similar enough that you know it's a Galaxy S right away. The phone looks like a mix between the Galaxy S2 and the Galaxy Nexus – it's got a sleek gray finish, with a slightly curved housing and removable back cover. The front features a darkened piece of Gorilla glass over the display, and three navigation buttons right below it, with an accentuated rectangular home button.
Hardware features and performance
The Samsung Galaxy S Advance has a respectable set of hardware features, and it doesn't skimp on the performance, either. The display is a 4 inch Super AMOLED unit with the good old 800×480 pixels resolution, and it has great colors, contrast and brightness, as well as a clear and sharp picture. On the back of the device, you'll see the 5 megapixels camera with an LED flash – of course, it supports HD video recording, too. There's also a 1.3 megapixels camera on the front for video calls, as well as the usual light and proximity sensors.
The other hardware specs include pretty much everything you'd expect a modern smartphone to have: Wifi N, Bluetooth, GPS, HSPA+ 3G modem (up to 14.4/5.76 Mbps download/upload), FM Radio, 16 GB of inbuilt storage space AND a micro SD card slot for up to 32 GB more if you ever need them.
The performance is provided by a dual core 1 GHz processor and 768 MB of RAM, which is more than enough to run any apps and games for at least the next couple of years without issues.
Software
The Samsung Galaxy S Advance is shipping with Android 2.3.6 Gingerbread and Samsung's custom Touch Wiz interface – nothing surprising there, as it's the same combo that the company is using on all of their other devices. Obviously, the Advance will have an OTA update to Ice Cream Sandwich available in the next month or two, so you don't have to worry about possibly being stuck with an outdated OS.
Price and availability
The Samsung Galaxy S Advance started shipping just a few days ago, so it should be in stores already or will arrive pretty soon. The phone is available unlocked from a few prominent online stores for international purchase, or in physical locations in the UK if you want to see it before buying it. The price for an unlocked unit is around $450, which is a fairly standard price for the specs, and seeing as the Galaxy S Advance has a new fresh design that is very easy on the eyes, it could even make a better choice than the Galaxy S2.