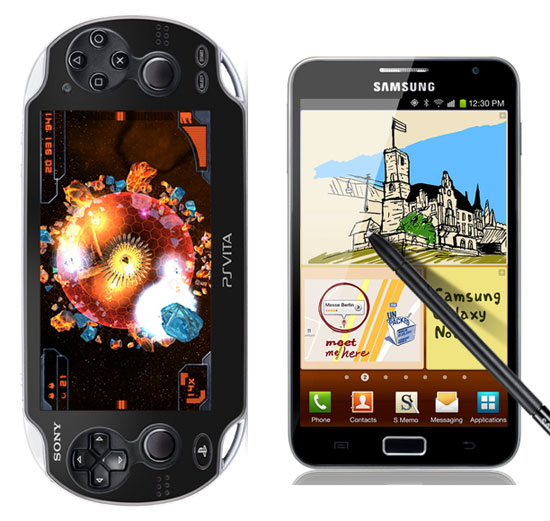 Portable gaming consoles were big for the past decade, but with the release of the iPhone, everything started to change. No longer were smartphones only devices for calls, emails and work – they also started getting powerful GPUs that could be used for running graphics and 3D apps, which of course included games. Today, smartphone games are just as good as their console counterparts, and you no longer need a separate device to play them whenever you want, wherever you are.
Still, companies that had success in the past with gaming consoles are still trying to keep the market alive, and Sony has released quite a compelling product to do just that: the PlayStation Vita, successor to the popular PlayStation Portable consoles. The device has a lot of great features and a nice price, but its sales haven't been going quite as expected.
It's interesting to pit it against a smartphone and see which one wins for mobile gaming, and right now, the best smartphone for gaming is the Samsung Galaxy Note, which has a very nice 5 inch display and powerful internal hardware capable of competing with the PS Vita.
Exterior design
Obviously, the Vita and the Galaxy Note have a different form factor, but their overall size is actually pretty similar. The Galaxy Note has a traditional slim slate form factor, while the Vita has a more rounded and thick body with dedicated buttons for gaming. You won't be able to put the Note in most pockets, but then again the Vita isn't pocketable, either, so they're the same in that regard. The Galaxy Note weighs 178 grams, is 9.65mm thick and has a big battery that will last around 12 hours of continuous video playback or around 7 hours of gaming. The PlayStation is 279 grams heavy, 18mm thick and lasts only 3 hours of gaming – pretty bad for a dedicated gaming device.
Hardware features
Both devices are very well built and have a 5 inch display (well, 5.3 on the Note, but consider the extra space as reserved for gaming controls), with the Galaxy Note sporting a 1280×800 pixels resolution and Super AMOLED technology, while Sony's portable console has a 960×544 pixels resolution and an OLED panel. The colors, brightness and contrast are very similar, since both technologies are pretty much the same thing, however the higher resolution of the Note makes the picture clearer and sharper, which is an advantage in games.
Interestingly, most of the hardware features of the PS Vita and Galaxy Note overlap – the Wifi and Bluetooth adapters, 3G radio, accelerometer and other sensors, touch screen, USB and HDMI out, as well as two cameras are present on both devices. The Galaxy Note however has a GPS receiver, 4G LTE support and better cameras – an 8 megapixels unit on the back and a 2 megapixels unit on the front, as opposed to the 0.3 megapixels cameras on the PlayStation.
Performance
Performance wise, the PlayStation Vita wins in pure hardware power – it uses a quad core ARM Cortex A9 processor AND a quad core PowerVR SGX543 GPU, which is pretty impressive (they're also responsible for the low battery life), but there's only 512 Mb of RAM and 128 MB of video memory. The Galaxy Note's Exynos chipset is not that far behind, thanks to the 1.4 GHz dual core processor and quad core Mali 400MP graphics adapter. The 1 GB of DDR2 RAM (shared with the video memory) in dual channel configuration ensures that everything will run smooth no matter how intensive the game is or how many apps are running in the background.
Software
The quality of the games for the Sony PS Vita is simply amazing, and there are a lot of good titles ported from the PlayStation 3 already. But Android games are not that far behind, either – you can find a lot of great titles, including Need For Speed, Shadowgun, Infinity Blade, as well as the fun and addicting arcade games like Angry Birds, Colorix and others, which are not available for the PS Vita.
Having Android as opposed to a proprietary OS gives you the advantage of an open market with hundreds of thousands of apps, an easily customizable home screen, and the ability to do much more with your device – the Galaxy Note is practically a computer in your pocket, not just a specialized device for gaming.
Conclusion
The PS Vita is half the retail price of the Galaxy Note at only $350, however, if you buy the latter on a contract, you can get it for $300 so it's actually even cheaper. Games for Android will continue to improve, and I believe having a universal device that can do everything is better than lugging around a smartphone and a big and honking portable console, so the Galaxy Note wins in my book.