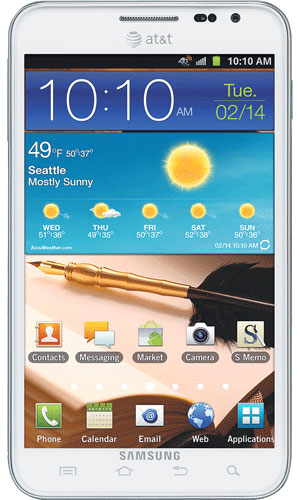 The Galaxy Note is one of today's greatest smartphones. Four months after it was announced by top-notch Korean company Samsung, it is finally arriving in Three UK – soon.
Hey. Four months is better than the whole year that US Cellular customers had to wait for the arrival of the Samsung Galaxy S2. Even though the American carrier hasn't confirmed it yet, FCC clearance has already been granted to the device. Three UK customers will be very pleased to know that the arrival of Samsung Galaxy Note was officially announced by the carrier.
If you've forgotten what the Samsung Galaxy Note is, it is that large slab that brands itself as caught in the middle of two product categories – phones and tablets. During its launch, manufacturers pushed smartphone screen size to a maximum of 4.3 inches. Sony Xperia Arc, Samsung Galaxy S2, and HTC Sensation all played safe and never went above it. Sony and HTC's latest high-end offerings – Xperia S and Sensation XL – never went beyond the 4.3-inch display as well.
When Samsung Galaxy Note was launched, people were either wowed or didn't know how to react to the behemoth. Aside from a massive display, the Note stood out with its reintroduction of the stylus.
The phone will be available in white. Details on pricing were not provided by Three UK. The carrier might keep customers waiting for days or a few weeks at most though because no specific date was given for the Galaxy Note's launching.
via Three UK