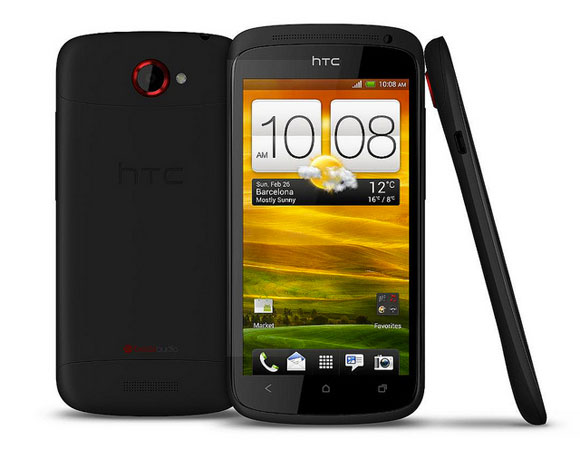 HTC is starting this year pretty well, with their new trio of smartphones in the One series being well received by critics and users alike. While the One X is the flagship device with the most hardware power and the one V is the affordable model with a unique design (retro, you could say, if you're a long term Android phone user), the mid-range One S catches our attention with its slim profile, relatively powerful processor, high quality camera with ImageSense technology and the sturdiest body yet on a smartphone, thanks to a unique process used by HTC.
Design
The design of the One S is very similar to that of HTC's Sensation and all the other phones that followed it. It's go the same curves and the same style on the front and back, with the difference being in the unibody metal construction and perforated speaker opening instead of the separate grill used on the Sensation. The metal body is also the most durable one seen on a smartphone – it's very strong, scratch resistant aluminum piece that has been treated using a process called Micro Arc Oxidation, which basically creates a ceramic coating on the metal. HTC claims this treated metal is stronger than stainless steel, which is pretty impressive – and it definitely feels that way when you hold the phone.
Processor, graphics and memory
The One S uses Qualcomm's new Snapdragon S4 chipset, which has two processor cores running at 1.5 Ghz each and the Adreno 225 graphics adapter – while it's no Tegra 3, this chip can definitely provide all the performance you'll ever need on a smartphone, and it helps achieve a longer battery life, as well. There's also 1 GB of RAM to keep things running smooth even when you have dozens of apps open or are running a particularly intensive game.
Other hardware features
There's really nothing bad to be said about the other hardware features: the HTC One S has everything you'd ever need on a smartphone, except for the notable lack of an NFC sensor (even then, I don't see this being that big of a drawback, at least for now). The usual Wifi N, Bluetooth and GPS radios are there, plus there's also the USB and HDMI out capability, 3.5 mm audio jack, support for 42 Mbps HSPA+ networks (no 4G LTE here – this phone is great for T-Mobile or Europe, though), and more.
The display is a nicely sized 4.3 inch unit, which makes the phone slightly more bearable to use with one hand than all the other 4.7+ inch monsters out there. The qHD resolution and Super AMOLED (yes, on a HTC device!) technology makes the picture look great, colors pop and the screen visible even under direct sunlight. The 1605 mAh battery might be a bit of a problem, though – it sure won't last long, maybe about 7-8 hours under normal use. HTC definitely should've used a bigger unit.
The front facing camera is nothing special with its 0.3 megapixels, but the main camera definitely deserves some extra attention – it's an 8 megapixels shooter with HTC's new ImageSense technology, which uses a back illuminated sensor, a f2.0 aperture and a dedicated imaging chip to provide you with some of the highest quality photos on a smartphone, taken in less than a second as well – no more blurry action shots with this phone!
Software
Obviously, the HTC One S will be shipping with Android Ice Cream Sandwich pre-installed, and will also feature HTC's own Sense skin, updated to version 4.0, which looks and works quite nicely. Hopefully, you'll be able to switch to the default skin if you wish – in fact, I have no doubt that it is possible at least unofficially, as the One S has already been rooted (that means custom ROMs and overclocking aren't far away).
Conclusion
The price hasn't yet been announced, but obviously, the HTC One S will cost lower than the One X – most likely in the $200 range, which will make the One S a great choice for anyone wanting a powerful, stylish and relatively inexpensive phone. In fact, I'd go as far as saying that the One S is a better phone overall than the One X – it has a stylish and durable metal housing (the One X's plastic feels quite cheap), a powerful enough processor (who needs a quad core anyway?) and all the other features, including a smaller display (which can be an advantage in this case).