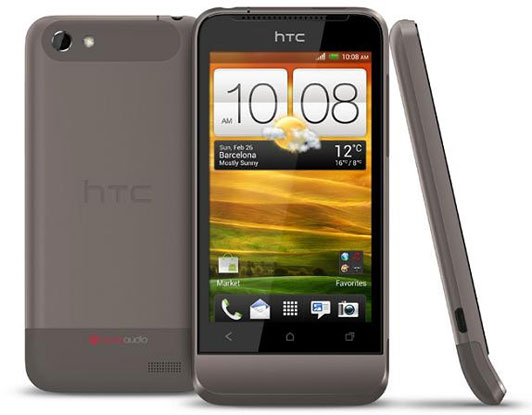 HTC seems to be back in the game, so to speak, with their new line of smartphones – indeed, the One X, One S and One V all look very attractive, even though they're aimed at completely different markets. While the One X is targeted towards those who want the absolute highest performance and the One S is more of a fashion/style item (with plenty of power under the hood), the One V takes on the entry level niche with some heavy firepower – it's quite a lot better than most of the cheap-looking, cheap-feeling devices that are currently on the market.
Exterior design
The first thing you notice about the One V is that it's very well built and it looks great, as well (although that may depend on your taste). The One V uses the same design style and unibody construction as the HTC Legend, which was pretty popular back in the day but had a short life. The unibody housing obviously makes the phone feel very sturdy, and the scratch resistant glass covering the front finishes the deal. There is no track pad or optical pad, though, which is a real shame – you only get three touch buttons for navigation right below the display.
Hardware features and performance
The One V offers a decent set of features when it comes to the hardware, although you can't expect it to compare with the more expensive devices. You have all the basic features like Wifi N and GPS, but there is no HDMI out capability, NFC or front-facing camera – then again, people don't really use those much, anyway. Furthermore, the lack of a front facing camera is completely overshadowed by the awesome camera on the back – a 5 megapixels unit with a large aperture and HTC's separate imaging chip, which can take beautiful shots in less than a second, practically eliminating the need for a separate point and shoot camera.
The performance of the HTC One V, on the other hand, borders on the low end of the spectrum – the 1 GHz single core processor is definitely not the fastest around, although it's comparable to all the Windows Phone 7 smartphones out there. The 512 MB of RAM are enough to run plenty of apps without much lag, and the graphics adapter is also pretty good at gaming – in normal everyday use, you'll probably never notice any slowdowns.
Software
Interestingly, this entry level device runs Android 4.0 Ice Cream Sandwich out of the box – a pretty rare sight. There's also HTC's custom Sense UI, which looks and works pretty well, although it can be removed if you don't like it. There's not much to be said about the software, really – Android 4.0 works just as you'd expect and it looks nice, too.
Specs Summary
Processor: Single core, 1 GHz (Qualcomm Snapdragon)
RAM: 512 MB
Display: 3.7 inch LCD, 800×480 pixels resolution, 252 DPI pixel density
Storage Space: 4 GB onboard storage space, micro SD card slot (up to 32 GB cards supported)
Camera(s): 5 Megapixels main camera with HTC ImageSense and support for 720p HD video (no front facing camera)
Connectivity options: Wifi N, Bluetooth 4.0, GPS, HSDPA/HSUPA 3G (14.4/5.76 Mbps), micro USB port
Battery: 1500 mAh, Li-Ion, up to 9 hours of continuous work on a single charge
Size: 120.3 x 59.7 x 9.24 mm (4.74 x 2.35 x 0.36 inches)
Operating System: Android 4.0 Ice Cream Sandwich with HTC Sense UI
Price and Availability
The HTC One V costs just $300 without a contract – a low price for a high quality phone, and a perfect choice for those who are just switching to a smartphone – with the One V, you will get one of the best possible experiences, that's for sure. The subsidized price should be much lower, although the phone has yet to officially launch on any network in the US, Europe or any other country.