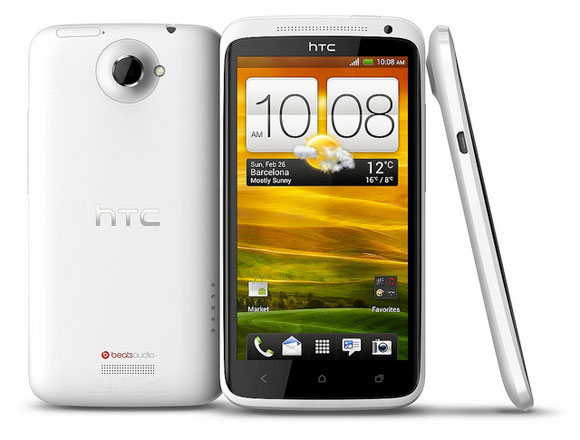 HTC's One smartphone turned out to be a trio of very nice devices, and while the One S and One V have their advantages, the One X is definitely the flagship – not only according to HTC, but also according to the specs sheet – this phone has everything, and I mean EVERYTHING. Even HTC touts it as an "All-In Device". So, how does the new high end phone from HTC appeal to its potential users?
Design
You'll definitely recognize the One X as being a distinctively HTC phone – it's got the same curves and style as the company's previous handsets, starting with the Sensation and ending with the Thunderbolt. The design is pretty attractive with its rounded edges and slightly curved housing that protects the screen from scratches, and the phone sits well in your hand even though it has a big 4.7 inch display.
The back of the device only has the camera and nothing else, while on the front, you'll find the display and three touch navigation buttons right below it – HTC doesn't want to let go of them for some reason (it would definitely help make the phone smaller). The housing is a unibody polycarbonate piece, which is pretty sturdy and light, but I have to wonder why would HTC choose it over the metal body of the One S, which feels more premium than the One X – is it because of the weight?
Display and cameras
The 4.7 inch Super LCD display has a 1280×720 pixels resolution, and while it has excellent picture quality, great colors and brightness, it falls a bit short of Samsung's Super AMOLED HD displays. That is understandable, but HTC also used a Super AMOLED in the One S, so it's a pity the flagship didn't get one, too.
The One X has two cameras – a simple 1.3 megapixels front facing unit and the awesome 8 megapixels camera on the back. It's awesome because it uses HTC's new ImageSense technology to achieve a much higher quality and speed when taking photos. That is thanks to the separate imaging chip that does all the work, the larger aperture and backside illuminated sensor – all of which come together to take a high quality picture in less than a second (the auto focus only takes 0.2 seconds!), which means great action shots on a phone are finally a reality!
Processor, graphics adapter and memory
Being a flagship phone, the HTC One X naturally uses a flagship chipset under the hood – the NVidia Tegra 3. Its four processor cores run at 1.5 GHz or 1.4 Ghz depending on the load, and there's a full gigabyte of RAM to back them up in any tasks. That means you'll get the highest performance possible in pretty much all of the apps and games available on the market, and the phone is very future proof – I don't see it getting old even after 2-3 years have passed. The same can be said about the 12 core GeForce graphics adapter, which is three times as fast as the Tegra 2's die, and can easily run the newest console-quality games.
Other hardware features
As I said above, the HTC One X has everything inside – from Wifi N, Bluetooth and GPS to HDMI out and NFC – every possible hardware feature is included. The NFC sensor is actually a first on any HTC device, so they're finally getting up to speed with the technology. You also get 32 GB of storage space built in, which is handy since there's no way to expand it with a micro SD card, but then again, you'll probably never need more than 32 GB. The battery is quite disappointing, though – it's an 1800 mAh unit, and as we've seen with the Droid RAZR, it's barely enough to run a dual core phone for a respectable amount of time, not mention a quad core and a HD display.
Software
As is the case with pretty much any self-respecting phone released this year, the HTC One X runs Android 4.0 Ice Cream Sandwich out of the box, and of course, HTC has implemented their own vision for an interface with Sense 4.0 – it's actually pretty nice and continues the tradition of being the best custom skin that HTC is known for. It's not as good as the default Ice Cream Sandwich UI, in my opinion at least.
The One X will be released in the next two months in the US and Europe and we can expect it to cost around $300 – a normal price for a flagship device packed with features. It'll definitely be worth the money, but it will have some serious competition from Samsung and LG – choosing it will probably be a matter of liking the style for most people.