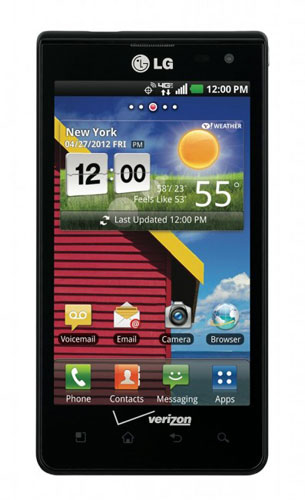 AT&T isn't the only US carrier pushing 4G technology to its subscribers. Verizon also made several attempts to make it a standard service. One of Big Red's strategy is to offer LTE-capable smartphones, forcing customers to embrace the technology. In line with this 4G revolution, Verizon announced LG Lucid 4G. The carrier-exclusive smartphone comes with a standard two-year contract, an $80 price tag, and an array of specs and features that won't disappoint.
LG Lucid 4G is neither too large nor too small. Its 4-inch display hits the mark of today's preferred screen size for phones. The touch-sensitive screen is made of Corning Gorilla Glass which is not only clear and elegant, but sturdy and scratch-resistant as well. Below the touchscreen are capacitive buttons for accessing Menu, Search, Home and Back. In its entirety, LG Lucid 4G has a sleek design but its form factor doesn't make it stand out against competition.
Lucid 4G may be "just another smartphone" but its specs make it an irresistible offer for $80. While it ships with Android 2.3 Gingerbread, users can upgrade it to Android 4.0 Ice Cream Sandwich once an update is available – which Verizon promises will come. The phone is powered by a 1.2GHz dual-core processor and 1GB of RAM for fast multitasking, web browsing, and a generally slick performance. The phone has tethering functionality and an LTE radio so you can use it as a Wi-Fi hotspot or connect to 4G networks.
On its back is a 5-megapixel autofocus camera and flash, capable of capturing full HD 1080p videos. It also has a front-facing camera for video chat. And as with any smartphone, Lucid 4G has Wi-Fi and Bluetooth connectivity. Other features include Quick Reply, Quick Dialing, HD video editing, and SmartShare for sharing files to DLNA-compatible devices.
Beginning March 29, LG Lucid 4G will be available online and in Verizon Wireless Communications Stores. You can grab one for $79.99 after a $50 mail-in rebate in the form of debit. The rebate will only apply to current Verizon subscribers who renew their two-year agreement with the carrier.
Upon purchase of Lucid 4G, you have to subscribe to the Verizon Wireless Nationwide Talk plan which starts at $39.99 per month. An additional data package will cost $30 for 2GB of monthly data, and more if you want your data limit increased.
AT&T recently announced HTC One XL and Nokia Lumia 900, two smartphones equipped with LTE radios for 4G connectivity. Nokia Lumia 900 costs $90 for a two-year contract, making Verizon's offer for LG Lucid 4G more appealing to those of you on a tight budget.