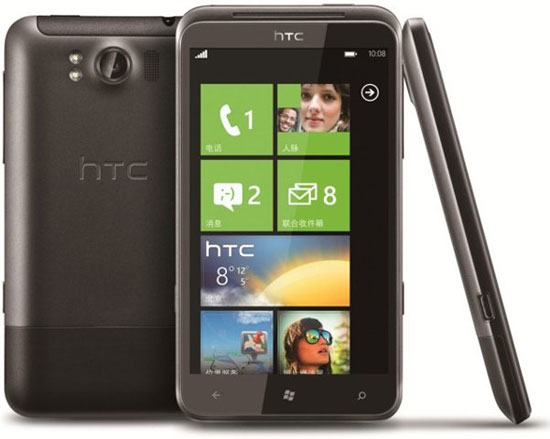 A new Windows Phone recently went on sale in China, making it the first phone running Microsoft's OS currently available in the Chinese market. It has no English name but was given the codename "HTC Eternity". The world's largest software maker says they will eventually overtake Apple Inc. – at least, in China. While they are being a bit cocky about it, there's good reason behind these predictions.
The official name of HTC Eternity is HTC凯 旋X310e which translates to "Triumph" or "Victory". The Eternity moniker was assigned by the Windows Team Blog because it had no English name – truthfully, HTC Triumph or Victory would have sufficed. The phone's name itself is a clue what Microsoft is up to and that is to take over the Chinese smartphone market with their Windows Phone, replacing Apple in the process. Although, they did make an official statement about it. With this goal set in mind Microsoft made partners with Chinese retail outlets so they could sell their devices for a low price of $158.
HTC Eternity is an unlocked handset that runs Mango and can be used with any GSM SIM from any carrier. It has a large 4.7-inch screen and two cameras – one in the front and another on its rear. Microsoft China held a press event in Beijing to show off the phone and how it supports both simplified and traditional Chinese. Windows Phone Blog spokesperson Michael Stroh says Microsoft's engineering and design teams worked hard on the software of Eternity so that the true beauty of simplified and traditional Chinese characters would be showcased.
It's fairly understandable why Microsoft is confident with the Chinese market. Not only have they created partnerships with the right companies, they also tweaked their Windows Phone operating system specifically for China. With its unique interface, HTC Eternity is going to be a sellout on the high-end market. Perhaps it would be interesting if entry-level Windows Phones like Nokia Lumia 610 made their way to China as well, sporting the same interface of course.