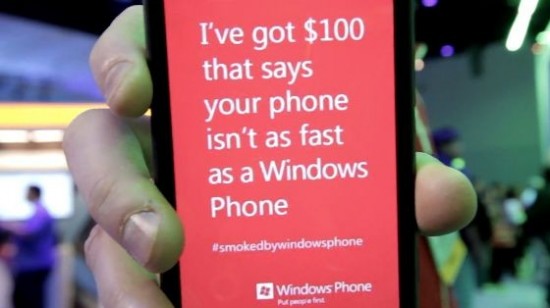 Microsoft received a lot of bad press yesterday when store employees refused to give Sahas Katta his prize after smoking a Windows Phone. His Android-powered Galaxy Nexus beat Windows Phone in a speed test where they were asked to show the weather in two cities. Ben Rudolph, the man behind the advertising campaign, only things made things worse when he tweeted Sahas. While he had good intentions and apologized, asking him to come back for a rematch wasn't the right thing to say – especially when it was clear who won. Now, Microsoft is trying to make amends by offering Sahas a laptop and a phone.
In his most recent tweet, Ben tells Sahas that he and Microsoft Store want to make things right by giving him a laptop, a phone, and an apology. Sahas is accepting Microsoft's offer but the controversy has already blown up to become a controversy. Fans of both Android and Windows Phones are clashing, flooding related posts with hundreds of comments. Even Apple fanboys are pitching in, joining forces or bashing either one or both mobile platforms.
According to The Verge, Microsoft knew the risks of their Smoked by Windows Phone campaign and warned employees to select a challenge that was appropriate for a customer – one where Windows Phone would surely win. The advantages of certain phones and mobile platforms were laid out to them, preventing them from starting challenges where the Windows Phone might lose. In the case of Android, Microsoft's OS was weak against widgets – which, the Windows Phone lost to in the challenge with Sahas.
Sahas himself questioned the earlier placement of weather tiles on the Windows Phone Start screen prior to the challenge. But to be denied of winning the challenge was an entirely different story. It was a cheap move that cost Microsoft more than the prizes stake with each challenge – it tainted their brand. While the company issued an apology and offered to give Sahas a laptop and a phone, damage has already been done. It would've been better if employees of the Microsoft store accepted their defeat on the spot. While it would be shameful to admit defeat, it would be a less painful blow to what they're currently going through.
This isn't a good week for Microsoft. The company's initial plan to surpass Apple in the Chinese smartphone industry is at risk of crumbling just as their advertising campaign is now in shambles . According to speculations, Apple plans to enter an agreement with Chinese mobile operators – possibly to offer the new iPhone. If these rumors are true, China will become an impenetrable market for Microsoft.
via TheVerge