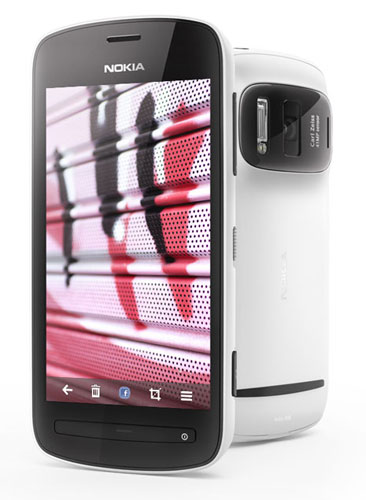 Nokia is still losing market share quicker than ever, and even with Windows Phone 7, they're looking for something that would save them from the inevitable fall. This year, the company didn't have much going on, but they did manage to announce one handset that has attracted quite a lot of attention from users and other manufacturers alike – the PureView 808, undoubtedly the best camera phone on the market to date.
Design
The Nokia PureView 808 has a pretty interesting design that is different from the straight lines and 90 degree corners of the Nokia Lumia 800. The 808 has a design that reminds you of a pebble, with rounded corners, rounded edges, rounded back – rounded everything. It actually looks a lot like EVE, the robot from Wall-E – at least that was one of my first thoughts when I saw it :-). It's a pretty attractive phone, and while it's quite thick at 13.9 mm at its thickest point, it sits well in your hand.
Processor, graphics adapter and memory
For a powerful camera phone, the PureView 808 sure has some mediocre internal hardware – Nokia was always known for using the cheapest components they could find in their smartphones (no doubt that was one of the reasons why they started to slide down the ratings). The device has a 1.3 GHz single core processor, and if that's not enough to make you think twice about it, it's also a cheap ARM11 unit, not ARMv7 – why would Nokia do this, I will never know. The performance is alright, though, thanks to the 512 MB of RAM, separate graphics chip and more importantly, the Symbian OS (more on it below). As for storage space, there are 16 GB of onboard memory, and no way to expand it.
The display and camera
The display is a nicely sized 4.0 inch unit, but the resolution is a real letdown – only 640×360 pixels – I'm beginning to think that Symbian just doesn't support higher resolution displays or Nokia is not really planning on selling this phone to anyone. That is too bad, since the 41 Megapixels camera on the back is totally worth the money – yes, this phone has a 41 Megapixels camera, and not the tricky multilayer one either – it's simply 41 Megapixels big, three times larger than the 8 megapixels camera used in the Lumia 900, with an adequately large lens, to boot.
It's an impressive beast, and with the Xenon flash, it can take great photos under any conditions. The photos aren't actually 41 Megapixels in size, because the pixels are being used to create a more detailed 8 megapixels picture, which is large enough to be printed on billboards, and large enough to take a lot of space in the phone's memory. Of course, the camera supports HD video recording, as well.
Other hardware specs
There's nothing to be said about the PureView 808's other hardware specs – the phone has almost the same feature set that you'll see on most other phones nowadays, starting from the Wifi and Bluetooth adapters and ending with the 3.5 mm audio jack, USB port and even NFC. Although, there is HDMI out capability, which allows you to see your images on the big TV screen. The battery is a bit small 1400 mAh, but will hopefully hold the charge for 6-7 hours if you don't use the phone a lot.
The operating system
This is another problem of the Nokia PureView 808 – it runs Symbian Belle, the latest in the series, but that doesn't change the fact that it's a practically unsupported OS that has very few great apps on its marketplace. Why would Nokia use it after choosing Windows Phone 7 as their main OS remains unknown – maybe they're having regrets about leaving the OS that made them a fierce competitor to Windows Mobile in the dust? Fortunately for the users, Nokia said they're also working on a Windows Phone 7 handset with the same camera technology, so everything's fine (not for the PureView 808, though).
Price and Availability
The Nokia PureView 808 will be released in Europe in May, and will cost a whole 450 euros to buy! That's a whole $600 for what is basically a low end handset with the best camera on the market – somebody in Nokia's marketing department should be fired for thinking up something like that! If it at least ran Windows Phone 7, it would've been a great purchase for those who need a good point and shoot camera but don't want to carry a separate one. But with a low resolution display, small battery, slow processor, who'd want to get it when HTC offers something almost as good in the camera department and light years ahead in general specs?