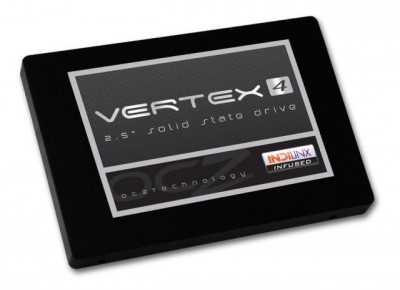 OCZ unveiled a new solid-state drive called Vertex 4 in today's CeBIT event in Hanover, Germany. It is a high-performance SSD which boasts significant improvements when placed side by side to last year's release, Vertex 3. OCZ Technology adds they'll be shipping another high-performing SSD later this year called Lightfoot.
SSD makers usually opt for controller chips from Sandforce and OCZ did just that with Vertex 3. With Vertex 4, OCZ tried a different strategy by using Indilinx Everest 2 as its processor. During today's CeBIT tech show, OCZ marketing director Joost van Leeuwen explained Indilinx technology does a better job at improving the SSD's performance because it uses uncompressed links.
In a real-world setting, Vertex 3 products based on Sandforce were limited to 40,000 to 45,000 input-output operations per second (IOPS). The Vertex 3 line doubles this, reaching up to 90,000 IOPS. Read and write speeds aren't that much different between these two, maxing out at 550MBps and 500MBps. It starts shipping sometime around March or April.
The upcoming Lightfoot is a fresh remake of traditional SSDs. It's smaller than usual but above everything else has a Thunderbolt interface which is different from the usual SATA port found in most of its kind. If it sounds familiar to you, that's because Thunderbolt is the same high-speed interface developed by Intel for Apple laptops and desktops. We can see more of it this year as it makes it way to Windows-based computers.
Lightfoot transfers data at 750MBps which is way beyond what SATA interface is capable of but we'll have to wait for real-world tests and benchmarks to see its actual speed. OCZ expects Lightfoot to be a hit among Mac owners and people who work with data-hungry videos and photos. It starts shipping this June with capacities of 128GB, 256GB, and 512GB. Lightfoot has a Kilimanjaro controller chip developed by Marvell and OCZ.