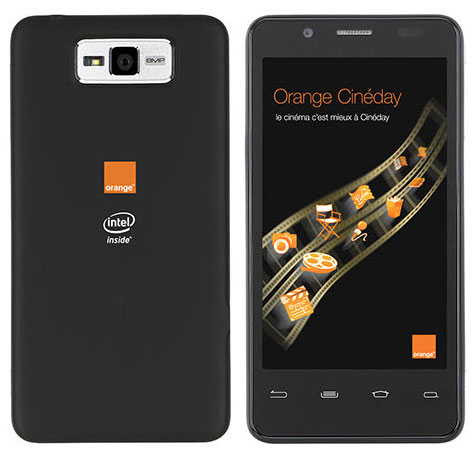 Intel has been pushing hard to be on the mobile market, and their latest endeavors have definitely paid off. The Ivy Bridge chips are the most energy-efficient yet thanks to the tri-gate technology (plus the Intel HD 4000 graphics adapter is fast enough to run Skyrim at comfortable frame rates), and they will no doubt help Ultrabooks compete with any tablets, especially when the touchscreen models get here.
In the smartphone world, Intel is also having a lot of success, with their Medfield platform developing according to the plan – in fact, the chips are already being put into production and will be out in the world (well, at least in India and Europe) by the end of spring. The first handset to be running on the new platform will be the Orange Santa Clara – a pretty nice device, all things considered.
Design and build quality
The design of the Santa Clara is pretty much the same as Intel's reference hardware – it's a simple slab smartphone with rounded corners, a display and touch navigation buttons on the front, and a camera on the back. It's not anything impressive, but it gets the job done. The build quality is decent, although nothing special – the phone is made mostly out of plastic, but there aren't any creaks or squeaks, and it doesn't feel like it will fall apart at the first shake, so everything's fine.
Processor, graphics and memory
The Orange Santa Clara uses Intel's first Medfield chip, the Atom Z2460, which is actually an SoC containing a single core processor, the graphics adapter and all the other components that make a smartphone tick. The processor runs at 1.6 GHz, and from what we've seen, it can easily match the Tegra 2 and Qualcomm's third generation Snapdragon in performance. It's a bit slower than the 1.5 GHz Exynos from Samsung and of course the new Tegra 3, but that's to be expected of a single core, whether it's ARM or x86. The graphics adapter is pretty damn good, though, and has shown some impressive graphics outputted to an external display via HDMI, with great performance. Overall, the phone should be good enough for any kinds of tasks performance-wise.
Other hardware features
The Santa Clara actually has a pretty nice feature set for what is basically a low-mid range smartphone (all city named phones from Orange are budget devices). Along with the usual Wifi N, Bluetooth 3.0 and GPS, you get HDMI and USB out ports, a 3.5 mm audio jack, 16 GB of onboard storage space and even an NFC sensor. Another feature deserving a detailed mention is the 8 megapixels camera on the back – aside from taking nice photos and 1080p video, it can also shoot a burst of 10 photos in a second – something that is unique to the Medfield chipset. The 4 inch display on the front is nothing special, but it's got a nice 1024×600 pixels resolution, decent colors and viewing angles, as well as enough brightness to make it visible in direct sunlight.
Software
Orange will be shipping the Santa Clara with Android Gingerbread out of the factory, but they already confirmed that the Ice Cream Sandwich update is on its way and will be available to the users pretty much right away. If you're wondering how come Android runs on an x86 processor, well, you have to remember that Android is just a java-based virtual machine that runs atop of a Linux core, and where did Linux come from? That's right, x86 computers. The fact that Intel uses the original Linux may have a lot to do with the high performance the single core chip is showing, although the x86 architecture shouldn't be underestimated, either.
Price and Availability
The Orange Santa Clara will be available in various European stores by the end of spring, and it will be aggressively priced, according to the company, which probably means it will cost less than $200 with a contract.
I believe hackers, modders and developers will be the first to want to get their hands on this device, seeing as it has an x86 processor – I'm sure we'll see it running Ubuntu within a few weeks and sooner or later, Windows 7 :-).