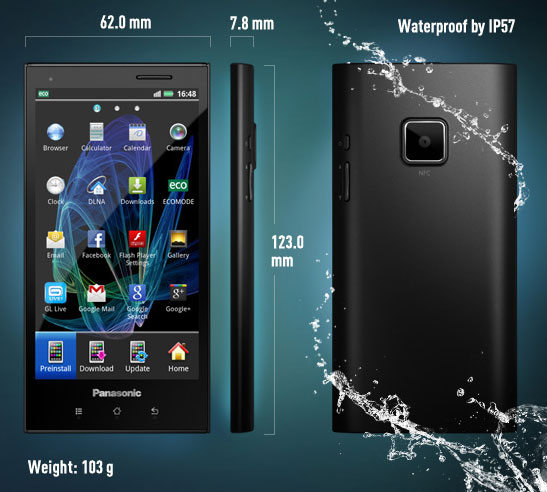 Panasonic has surprised everyone (or at least those who were listening) with their inetion to get back into the mobile market – they've certainly had some success in the past with smartphones and right now, they make the best rugged laptops, but consumer mobile devices just don't seem like their turf. But as you can see, anyone can just start making smartphones and tablets these days thanks to the dozens of factories ready to create any design you have in mind, and Panasonic making some average phone just to say they have one wouldn't be so far-fetched.
But Panasonic actually did better – they announced two smartphones that will definitely catch your attention and can become a great competitor on the already crowded market. The ELUGA Power is a direct competitor to the Samsung Galaxy Note, while the smaller ELUGA is a decent all-rounder that bids on style rather than hardware power or features, and as Sony has shown us, that can actually work very well.
Design
The Panasonic ELUGA has a very attractive design – in a world full of smartphones that look more or less the same, it certainly is refreshing to see a fresh design. The front of the phone is fully covered by a blackened sheet of Gorilla glass that protects the 4.3 inch display underneath it, and the back and sides are surrounded by a D-shaped unibody frame, which sits very well in your hand. The phone is just 7.8 mm thin, and most importantly, it's scratch resistant (obviously) and water proof – it can survive under 1 meter of water for up to 30 minutes. Now that's impressive, not to mention practical, design. I doubt you'll want to take a swim with it, but it's good to know that it can survive in the rain or on the beach AND look good while doing so.
Hardware features
The ELUGA brings pretty much all of the mainstream hardware features that a smartphone must have. It's got Wifi N, it's got Bluetooth and GPS, USB and HDMI out, a 3.5 mm audio jack and even an NFC radio – the whole set. The display on the front is a 4.3 inch OLED unit with a 960×540 pixels (qHD) resolution, and needless to say, it looks great under any conditions. The phone has two cameras – a front facing VGA resolution unit and an 8 megapixels one on the back, which support 1080p video recording but sadly lacks an LED flash. Battery life will probably be good enough, but the 1150 mAh battery doesn't inspire any confidence.
Performance
As I already mentioned, Panasonic is going for style rather than hardware power, and as such, the ELUGA only has a standard dual core 1 GHz processor under the hood. It is by no means slow, but obviously it can't compare to the newest 1.5 GHz Snapdragon or the Tegra 3. It will be more than good enough for everyday use and any apps and games you might need, so no worries there. There are 8 GB of onboard storage, and no way to expand it, so you'll have to sacrifice that if you want a unique smartphone.
Software
The Panasonic ELUGA will be sporting Android 2.3.5 Gingerbread with a custom UI from the company when it comes out and hopefully, they will release an Ice Cream Sandwich update – I sure hope they don't repeat Sony's steps and just forget about their first stylish smartphones when it comes to updating the software – or at the very least, they should leave the phone open for developers to install custom ROMs.
Price and Availability
The Panasonic ELUGA and its bigger brother, the ELUGA Power will be available in the second quarter of 2012, but the price has yet to be announced. It should cost a pretty penny, though, seeing as it's a well-built device with a decent amount of features under the hood.