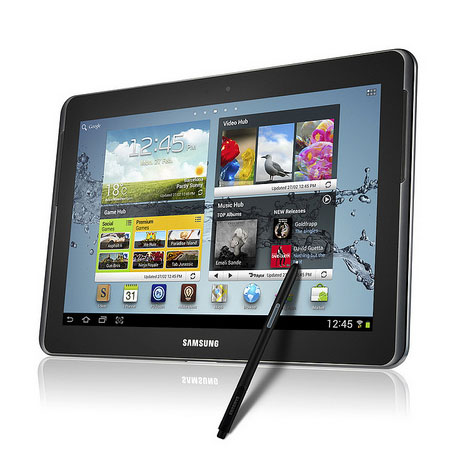 In addition to their smart cameras, Samsung also announced the availability of their Galaxy Tab 2 and 15-inch second-generation Series 9 notebook. Samsung Galaxy Tab 2 was announced a month ago and upgrades two of their original tablets – Galaxy Tab 7" and Galaxy Tab 10.1". As for the 15-inch series 9 notebook, this is the first time we've heard about it after its unveiling at CES. According to Samsung, all three gadgets will be hitting stores by Q2 which could be anytime between April and June. Of the three, only the 7-inch model of Galaxy Tab 2 underwent a lot of hardware improvements.
Both tablets under Galaxy Tab 2 will have 1GHz dual-core processors, micro SD card slots expandable to 32GB, front-facing VGA cameras, 3-megapixel rear cameras, Wi-Fi connectivity, and Bluetooth. Both will ship with Ice Cream Sandwich, Android's latest firmware. Galaxy Tab 2 will be Samsung's first devices with AllShare Play preinstalled. It's a cloud-based storage that lets users stream media content to PCs, Samsung smartphones, and other third-party cloud drives. Spec-wise, the 7-inch model got the most improvements. The only major difference between Galaxy Tab 10.1" and its upgraded version is micro SD storage. The previous model didn't have any.
The second-generation Series 9 ultrabook has a 15-inch LCD screen with a resolution of 1600×1900 pixels. Despite its large screen, Samsung managed to fit it inside a 14-inch body using MaxScreen technology. It looks physically impossible but they made it happen anyway. The 15-inch model is slightly thicker and heavier than its older sibling but has one major improvement from the inside besides screen size. Instead of an Intel Core i5 processor, it comes with a bumped-up, Intel Core i7. This is a significant improvement as it extends battery life to 10 hours and gives the ultrabook a speedy wake time of 1.4 seconds.
All other specs remain the same between the 15-inch Series 9 ultrabook and its 13.3-inch predecessor. Similarities include an Intel HD Graphics card, up to 8GB RAM, 256GB SSD, SDHC card slot, Wi-Fi and Bluetooth connectivity, and the presence of HDMA, VGA, USB 2.0, and USB 3.0 ports.
No specific date was announced. All we know is that Samsung is releasing Galaxy Tab 2 and the 15-inch Series 9 ultrabook by Q2. If you're planning to get the 10.1-inch Galaxy Tab 2, I suggest you wait it out though. Samsung may be working on Galaxy Tab 11.6" which is going to have the same ultrahigh resolution as the new iPad but with better specs overall.