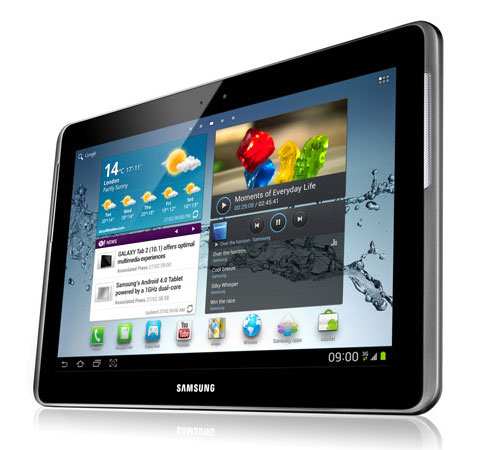 It's a big day tomorrow. The Mobile World Congress is going to be held at Barcelona, Spain. Samsung went ahead and announced the two newest tablets for their 2012 lineup – Galaxy Tab 2 in 7-inch and 10.1-inch variations.
We first heard about Galaxy Tab 2 weeks ago. The original 7-inch Galaxy Tab was rumored to get Ice Cream Sandwich along with hardware enhancements. Samsung finally made it official, announcing Galaxy Tab 2.0 Both 7-inch and 10.1-inch variations are getting boosts in specs.
According to Samsung, the two tablets will have 3G and WiFi-only versions. Bluetooth connectivity is available for both. They will be powered by 1 GHz dual-core processors and have 1GB RAM, 3MP rear cameras, VGA front cameras, micro SD storage of up to 32GB, and 21MBps of HSPA+. Of course, they'll be slathered in Android 4.0 Ice Cream Sandwich with Sammy's very own Touchwiz. Listed below are their varying specs.
Galaxy Tab 7" 2.0 Specs
Display: WSVGA PLST TFT LCD with 600 x 1024 pixels
Dimensions: 193.7 x 122.4 x 10.5 mm
Weight: 345g
Battery: 4000mAh Li-ion
Galaxy Tab 10.1" 2.0 Specs
Display: WXGA PLS TFT LCD with 1280 x 180 pixels
Dimensions: 256.6 x 175.3 x 9.7 mm
Weight: 588g
Battery: 7000mAh Li-ion
Between the two, Galaxy Tab 7" 2.0 has the most improvements compared to its first version. With its dual-core processor, faster network support, and lighter weight, it makes a perfect upgrade for its predecessor. I can't say much for Galaxy Tab 10.1" 2.0 though. Not only is it heavier than its original version but doesn't have much improvements other than support for an external SD card.
Prices are yet to be revealed but you can expect them to be much more affordable than iPad. If you happen to attend the event, you can catch them at the Samsung stand located in Hall 8.