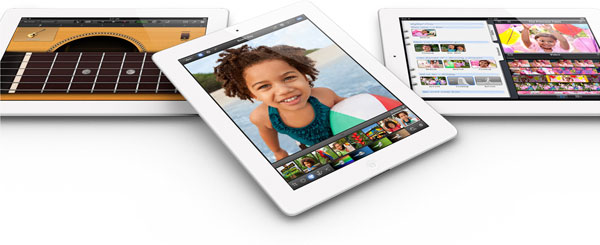 The "new iPad" is the latest version of Apple's next-generation tablet, which redefines the category that company created with the original iPad two years ago.
After its announcement last Wednesday, roughly a year after iPad 2 and two years after the first-generation iPad, people couldn't help but wonder if they should get an upgrade. Judging by the specs alone, the new iPad has a lot of improvements compared to its predecessor. Here's a three-way comparison between iPad 1, iPad 2, and the third-generation iPad in terms of their design, display, camera, connectivity, memory, storage, and battery life.
Design
The latest iPad model follows the design used in previous models. iPad 2 and the new iPad have almost-similar dimensions, but the previous model still fares better. iPad 2 models have an average weight of 1.3 lbs and are 8.8mm thick, making them the lightest and thinnest iPads to date. But if we compare iPad 1 to the new model, there's still a significant difference between the two making iPad 1 the bulkiest in both weight and measurements.
Display
All three iPad models have 9.7-inch screens with LED backlights and coating that's resistant to scratches and fingerprints. The real difference lies in their resolution. First and second-generation iPads are limited to 1024 x 768 pixels but the recently-announced iPad has twice the resolution with 2048 x 1536 pixels. The new iPad has the same Retina Display found in iPhone 4, 4S, and iPod Touch 4G making it the best in this category.
Camera
The original iPad doesn't have cameras and fails once again to impress us in this category. The two latest models are equipped with front-facing cameras for video calls as well as rear cameras for taking photos like you would with a smartphone. The new iPad has a 5-megapixel camera with the ability to capture 1080p HD photos and videos at 30 frames per second. iPad 2 has a below-average 0.7MP camera which captures 720p HD stills and and videos at 30 fps. While these two two have 5x digital zoom and VGA front-facing cameras for video calls, the new iPad offers the best camera hands-down.
Processor
First-generation iPads are equipped with 1.4GHz, single-core A4 chip and second-generation models moved up to the dual-core family of devices with their A5 chip. The A5X chip found in the new iPad still has the same dual-core processor as iPad 2 and iPhone 4S but not without improvement. A5X has quad-core graphics which Apple claims has four times better graphics performance than Tegra 3. No doubt, You can play games and watch videos with better quality.
Connectivity
Wi-FI connectivity throughout three iPad models are the same as they can connect to 802.11 a/b/g/n. While iPad 1 and 2 have Bluetooth 2.1+EDR technology, the new iPad was updated to Bluetooth 4.0. And only the latest model is capable of connecting to LTE or 4G networks though. Previous models are limited to 3G internet speeds. The new iPad will be able to keep up with technology's shift to faster LTE networks but previous models will find 3G reliable, nonetheless.
Memory and Storage
The new iPad will be available in 16GB, 32GB, and 64GB models. Production of iPad was stopped in 2011 and currently, only 16GB models of iPad 2 are released. Until Apple announces more details concerning the new iPad's specs, we can't confirm if it packs better RAM than iPad 2 even though we expect it. Of course, it should be better than the 256MB DDR RAM built into iPad 1.
Battery
Apple is consistent in this category, delivering 9 hours of battery life when connected to 3G or 4G and an extra hour when connected to Wi-Fi, regardless of the iPad model.
Should I upgrade to the new iPad?
If you've been holding on to that iPad for two years, it's about time that you upgrade to the third-generation iPad with a starting price of $499 for the 16GB, Wi-Fi only model. An iPad 2 would be a cheaper upgrade by this point and still worth-it considering the price-drop after this week's release of the new iPad. Despite this model's 3G limitations, its speed is good enough for streaming as long as you get good signal. Upgrading to the latest model from iPad 2 is also a decision you should ponder on, considering the big leap to full HD Retina Display and 4G connectivity. But if can go without LTE technology, high-resolution graphics, and a 5MP camera, hold on to your tablet for another year until Apple releases an upgrade. Perhaps by then, Apple will announce a quad-core iPad which many thought this new model was.