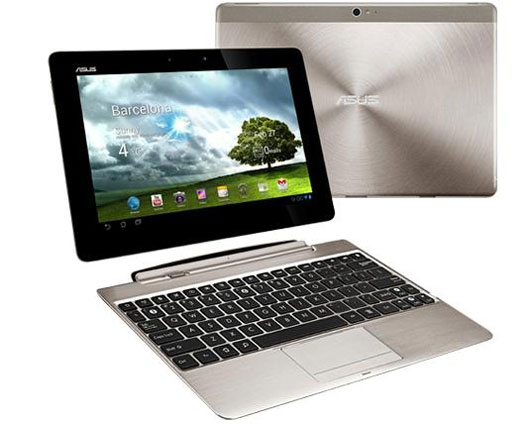 More than a week ago, the Asus Padfone went on sale in Taiwan as a pre-order. A few days from now and it will start shipping to locals who ordered it as a smartphone-only, phone-and-tablet, or all-in-one package which includes a keyboard dock. Italy gets lucky today. According to Notebook Italia, Padfone will arrive in Italy – and possibly other European markets – in late May. European prices were also detailed for Asus Padfone, along with availability and pricing details of two more Asus devices – Transformer Pad 300 and Transformer Pad 700 Infinity.
Pricing details of the smartphone-only package of Asus Padfone is unknown but were provided for others. The smartphone and tablet combo is selling for £699 and an additional dock for using the tablet as a laptop will cost you an extra £149. That's about £848 or $920 in US currency which is consistent with Taiwan prices. Asus Padfone will initially be offered in 3G models but an LTE-enabled version is hitting Europe this September. Availability and pricing of Transformer Pad 300 and 700 Infinity for the European market were also provided. Asus Transformer Pad 300 will be released on mid-May for £399. A 3G model will also be offered alongside for £499. As for Transformer Pad 700 Infinity, it'll come in June with a £599 price tag for the 64GB model. Asus is bound to release an LTE version in the future as well.
US availability of Asus Padfone is still unconfirmed at this point but a previous rumor suggests it will head west late April. If that pushes through, Transformer Pads 300 and 700 Infinity will probably follow its release in a month or two. Asus Padfone was first announced at the Mobile World Congress and right then and there caught everyone's attention for being outright innovative. Where else have you seen a smartphone which doubles as a tablet and laptop? Transformer Pads are the latest-generation Asus line of tablets and a reincarnated version of Eee PC. Basically, Asus nicked off the awkward "Eee PC" branding and replaced it with this one.