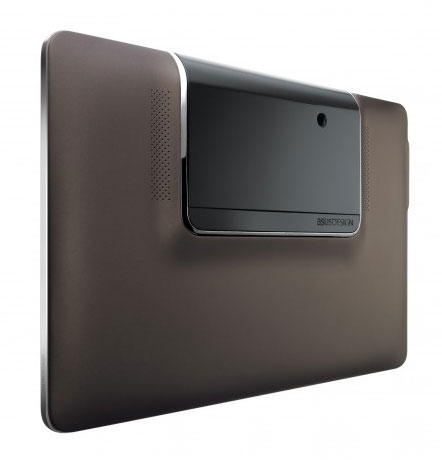 Asus PadFone was first seen last year at Computex Conference. More details about the tablet phone hybrid was expected to appear at the Mobile World Congress in Barcelona, Spain. Just as expected, it did show up but without Gingerbread. Instead it runs the latest Android OS, Ice Cream Sandwich.
Believe it or not, PadFone first came about on May 2011. It was unveiled by Asus at Computex Conference as a tablet phone hybrid. No, it is nothing like Samsung Galaxy Note. PadFone is a smartphone that works hand-in-hand with an optional tablet. Note is just an oversized phone.
As a fully functional smartphone, PadFone is a stand-alone device. Its 4.3-inch screen flaunts Super AMOLED qHD display. Inside is a 1520mAh battery and Snapdragon S4, a dual-core processor. Consumers can choose from 16 to 64GB of internal storage although it does come with a micro SD slot for external storage. The 8MP rear camera has an f/2.2 lens but its front-facing camera has poor quality because of its VGA resolution.
PadFone can be docked in an optional tablet that's just 9.2mm thick. According to Asus, docking PadFone into the tablet would increase its battery life up to 9 times. The tablet has a stylus which can be used as a Bluetooth headset to receive calls – pretty cool, huh? In this sense, this latest creation by Asus is a tablet phone hybrid which allows users to use their smartphone as it is or as a tablet.
Asus doesn't go far from their Transformer Pad lineup though. The PadFone tablet can also be docked into a keyboard and used as a laptop. The company says they'll be making a series of accessories that allows users to use PadFone in a variety of ways. The phone starts shipping by April though pricing was not yet revealed.
I'd like to see PadFone in action as a smartphone and as a tablet. I'm a bit skeptical of its dual-core limitations. We all know battery life is better with Tegra 3 quad-core chips because of the additional "ninja" chip. Even so, PadFone is a device I deeply look forward to. Devices like Moto Atrix and Lapdock had the same concept but Asus has been successful in manufacturing hybrids.