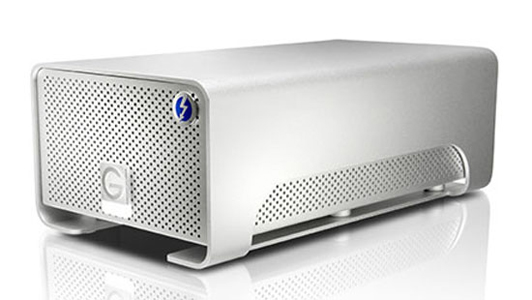 This week's NAB show in Las Vegas included the announcement of G-RAID with Thunderbolt interface. With a maximum of 8TB storage, inclusion of two drives, and striped RAID (RAID 0) configuration, Mike Williams of G-Technology calls it the highest-capacity two-drive RAID 0 external drive in the world. And with the addition of Thunderbolt interface, it makes us wonder whether it is indeed built for storing large media files.
Overview
G-RAID with Thunderbolt has a hefty aluminum enclosure with two 7200rpm Hitachi drives in its gut. Users can choose from 4TB, 6TB, and 8TB models whichever suits their needs and budget. Out of the box it has a RAID 0 configuration but it can be configured to RAID 1 for data protection via Mac OS X Disk Utility.
Thunderbolt allows quick transfer rates of large media files and is best used for storing HD files and continuous MP3s. It is built for professionals who handle immense collections of large data files. Average users who simply collect music and videos would be happy with it too but because files like these take up less memory, they have an almost-infinite space for storing them. For every 100GB, G-Technology says it can store 8.4 hours of HDV 1080i, 1.7 hours of DVCPRO HD video, an hour of ProRes 422 HQ video, 50,000 photos, and 25,000 MP3s. Every terabyte can store 10 times of this since 1TB equals to 1000GB.
Compatibility
Intel's 10GBps interface limits the compatibility of G-RAID with Thunderbolt to Thunderbolt-compatible peripherals. As of today, there are only five computers with Thunderbolt serial buses – iMac (2011), MacBook Pro (2011), MacBook Air (2011), Mac Mini (2011), and Sony VAIO Z21 (2011). But its compatibility is further limited to Mac OS 10.6 and higher, eliminating Sony VAIO Z21 from this list – sorry, G-RAID with Thunderbolt is strictly for Macs. Mac users no longer need to worry of setting it up since it's Time Machine ready for easy integration. You need to have a Thunderbolt cable though because it's not part of the package.
Performance
The 8TB model was tested by MacWorld and compared to Thunderbolt RAID drives. For consistency and accuracy of results, all drives were connected to a 17-inch MacBook Pro (2011) running OS X 10.7.2 with 4GB RAM and 250GB SSD. Results were compared to LaCie 2big Thunderbolt, LaCie Little Big Disk SSD, LaCie Little Big Disk HD, Promise Pegasus R6, and Seagate GoFlex Desk FW800.
• Write 10GB file – 206.2 MBps, third fastest
• Read 10GB file – 170.5 MBps, fifth place
• Write 10GB folder – 191.7 MBps, fastest and ties with LaCie 2big Thunderbolt
• Read 10GB folder – 149.3 MBps, third fastest
• AJA Write – 314.0 MBps, second fasatest
• AJA Read – 317.9 MBps, third fastest
Verdict
G-RAID with Thunderbolt isn't necessarily the fastest but it has the highest capacity Thunderbolt storage. Media professionals can benefit the most from its 8TB model but average users who collect movies and music for a hobby should be satisfied with a 4TB capacity. Overall, it's a great device for storing large files from your Mac and does well in transfer rates too. The 4TB, 6TB, and 8TB model each sells for $799, $999, and $1199, respectively.