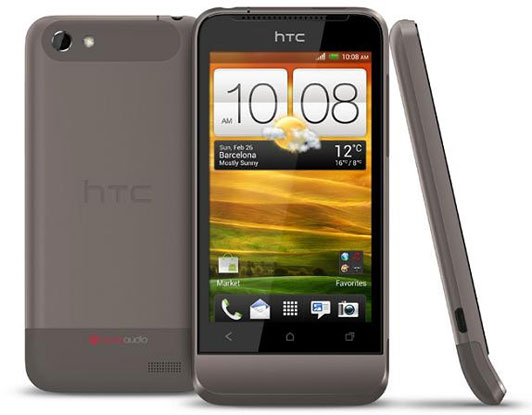 In case you don't know, HTC One X is available for pre-order at Rogers. The Canadian carrier offers one of the best deals and is selling this beauty for $169.99 on a three year-contract. It is the exact same version that AT&T is selling for $199.99 and has a dual-core Snapdragon S4 processor and 4G connectivity. But as soon as HTC One X is available in stores, Rogers is dropping their offer and will sell it on regular price. If HTC One X is too expensive for your taste – sale or no sale – you might be interested in HTC One V which belongs to the same lineup. It is the most affordable of the HTC One trio and is launching in Canada through Bell and TELUS.
For a quick recap, HTC One V is the cheapest HTC One smartphone and has the same ceramic body as its bigger brothers. It has an average 3.7-inch display with 800 x 480 pixels and 252ppi pixel density, 512MB RAM, 4GB internal storage, and a 5-megapixel camera capable of recording 720p videos. Powering the Android 4.0 phone is a 1GHz Snapdragon processor. Other specs include WiFi, Bluetooth, and 3G connectivity, Beats Audio technology, micro USB port, and a 1500mAh non-removable battery. If you have the time, feel free to read our HTC One V review which looks deeper into its design and hardware.
Bell will launch HTC One V on May 3 and we could only assume that TELUS will launch it on the same day. Both Canadian carriers will sell it on an off-contract price of $300 and with free 25GB storage from Dropbox. If you want an even cheaper HTC phone, you could wait for the launching of the rumored HTC Golf. HTC Golf is rumored to have a 3.5-inch screen, 3-megapixel shooter, as well as several other decent specs.