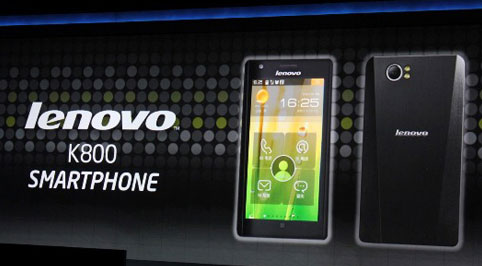 Intel's dreams of entering the mobile market are finally starting to come true, with the Medfield platform finally reaching the point of being able to compete with ARM solutions in terms of performance, as well as power consumption. Medfield is actually quite an old architecture, having been used for Atom processors for almost five years now, but only recently has Intel been able to reduce its power consumption enough to be able to run it inside a smartphone or tablet for a reasonably long time on a single charge.
There are already three smartphones using the new platform that are coming to the market, and among them, the Lenovo K800 is the most interesting one.
Design
The K800 is a pretty well-built smartphone. Unlike the Orange Santa Clara and the Xolo X900, Lenovo has given it a more unique design and the phone definitely has more metal inside, which makes it feel sturdier. The front is fully dedicated to the display, with three navigation buttons right below it (with the main button looking suspiciously like the companion cube from Portal :-)) and the speaker grill above. The back has a brushed aluminum finish and a bit of a geometrical cut for added effect.
Hardware features and performance
The hardware features of the Lenovo K800 are on par with all the other new smartphones on the market – you'll find all the features you can think of, including Wifi, GPS, Bluetooth and even HDMI out. There's really nothing lacking, which just proves that Intel's SoC is ready for the prime time.
Speaking of which, the single core Atom processor inside the phone does a really great job at running all the software – the performance is right up there with some of the best dual core ARM chips on the market, including the dual core 1.4 GHz Exynos that's inside the Galaxy Note – that's pretty impressive if you think about it.
Software
The Lenovo K800 will be running Android 2.3.7 Gingerbread out of the box, but an update to Ice Cream Sandwich should be available right away. The interesting thing is that all the apps from the Google Play market should work just fine on this x86 handset – Android is a Java-based virtual machine, after all, and in this case it runs on Intel's Linux kernel that is basically a stripped down version of the actual desktop kernel – that should help it get better multi-core performance in the future, as well.
Specs table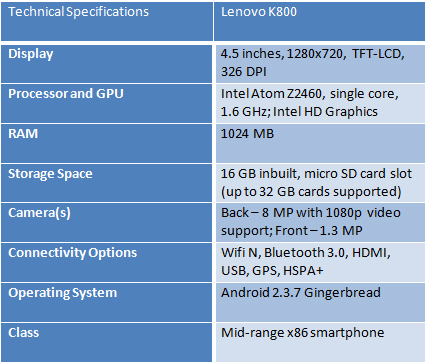 Price and Availability
Sadly for all the western hackers, developers and phone enthusiasts, the Lenovo K800 will only be available in China, at least at first. It will be released this summer, so there's still some time to go until we see tests of the actual production handset. The pricing hasn't yet been announced, but it should cost about as much as the other mid-to-high end smartphones on the market.