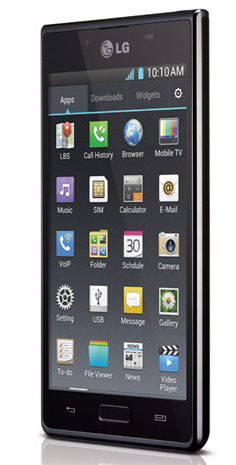 The L-series of LG phones was first heard of two months ago and was on display at the Mobile World Congress days later. The trio featured "floating mass display" and ranged from budget to higher-end options. Also called the L-style series, they borrow the design language used on LG Prada 3.0, a Prada-branded Android smartphone. Availability and pricing for two out of three L-style smartphones were detailed today by LG France.
L7, the Crème de la Crop of the L-style series, is arriving in France within this month of April. Availability for other European markets will likely follow after it lands France. The device is free on-contract but can be acquired as an unlocked handset for €319 or $420 USD. Also referred to as LG Optimus L7, it has an expansive 4.3-inch screen with IPS technology and 480 x 800 pixel resolution. On its back is a 5-megapixel shooter paired with LED flash and inside its sleek frame is a 1GHz dual-core CPU and 4GB internal storage. RAM is either 512MB or 1GB – this spec remains unclear. L7 will also have a microSD card slot for expandable memory.
LG Optimus L5 is a midrange option that'll be available to France next month. Pricing wasn't mentioned for it but we estimate it to be €250 off-contract and free on a cheaper plan. L5 has a 4-inch screen with 320 x 480 resolution, a 5-megapixel camera with LED flash, and a single-core 800MHz processor. No word yet for LG Optimus L3, the most affordable of the trio, which has a low-resolution 3.2-inch display, an 800MHz processor, and 3-megapixel shooter.
L5 and L7 will both run Android 4.0 Ice Cream Sandwich. LG Optimus L3 is limited to Gingerbread. Just to be clear, LG hasn't fully disclosed the specs of their L-series since its debut at MWC 2012. The specs mentioned here are preliminary and subject to change.