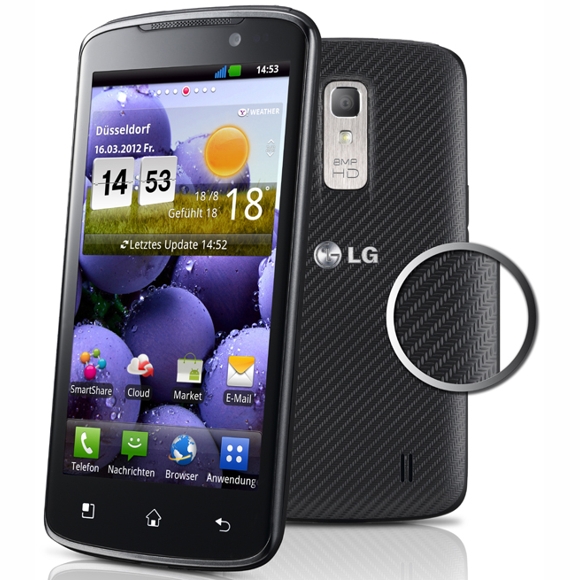 LG has announced a slew of new smartphones this year, and while the release date of the flagship Optimus 4X HD (with a quad core processor and HD display, as you can tell from the name) is still up in the air, the company is already in the process of releasing the second most powerful handset in their new line: the LG Optimus LTE P930, which will be known as the Optimus True HD LTE.
The new smartphone is basically the European version of the Nitro HD, which has been available on AT&T in the US for several months now. This time, LG is heavily focused on marketing the true HD display and the LTE capabilities – the company is actually among the first to have announced a LTE-equipped handset for Europe, not that it's really needed there – European 3G is much faster than its American counterpart, actually reaching into the double digit Mbit/s on download.
Hardware features
But let's get back to the phone. The main attraction of the device is the 4.5 inch, 1280×720 pixels resolution HD display, which is marketed as True HD because LG actually uses a real IPS panel inside it, with all the RGB subpixels intact – the competition's LCD and AMOLED displays use the PenTile matrix with less subpixels to save power. That's good for the image quality, but the battery life suffers, which is why LG also uses a larger 1830 mAh battery inside the device (it doesn't help much on LTE, to be fair).
The other specifications are also on par with the newest smartphones on the market – you can see them in the table below: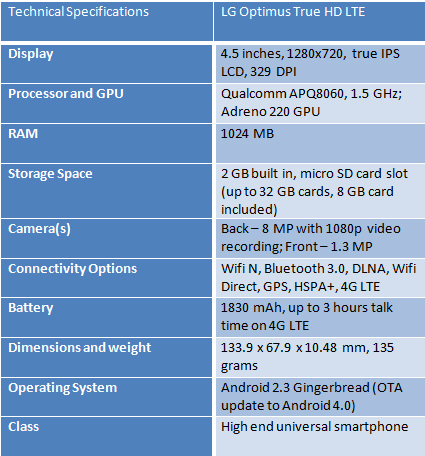 Performance
As you can see, the LG Optimus True HD LTE has some pretty good specs inside. The performance of the dual core Snapdragon should be more than enough for most people, and the Adreno 220 GPU is on par with the solutions used in the Droid RAZR and iPhone 4S – not quite Tegra 3 level, but good enough for at least the next couple of years.
Software
Interestingly, the handset will ship with Android 2.3 Gingerbread out of the factory, but an update to Android 4.0 Ice Cream Sandwich should be readily available as an OTA update (which you should apply right away – ICS is much better than its predecessors).
Price and availability
There's no word on the price yet, but you can expect the Optimus True HD LTE to cost about the same as its American counterpart, only in Euro. The phone will be coming this summer in Germany, Portugal, Sweden, as well as Hong Kong and Singapore.
image source: LG Blog