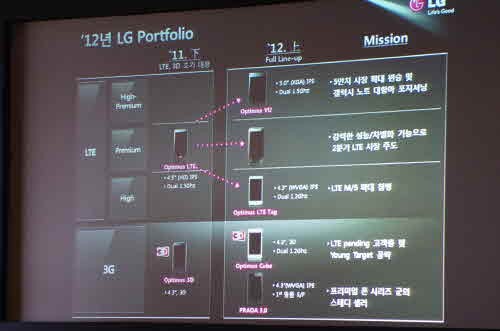 LG Optimus 4X HD was the first quad-core smartphone offered by the South Korean company. It had big specs – literally – with its 4.7-inch IPS LCD screen, 1280 x 720 display resolution, Android 4.0 firmware, and quad-core Tegra 3 processor. Apparently, Optimus 4X HD wasn't made to compete against Samsung Galaxy S3 now that LG is working on a different flagship phone. The smartphone has no name yet but was codenamed D1L for the meantime.
According to rumors, D1L will be the first LG-branded Android phone shipping with Ice Cream Sandwich on board. Considering that most of their recently-announced smartphones run Android 4.0, D1L will beat them and be first to hit stores. It has the same 4.7-inch display as Optimus 4X HD as well as 1280 x 720 pixels for full HD resolution. What Optimus 4X HD lacks, however, is a faster processor and 4G connectivity – yes, Tegra 3 is not fast enough for LG's taste. That is why D1L will include a 1.5GHz Snapdragon S4 chip and LTE radio. Snapdragon 4 maybe dual-core processor but benchmark tests show it is faster than Tegra 3. Furthermore, LG plans to release their flagship phone this May. It might be announced anytime this month at a press conference but no details were spewed by DDaily's tipster.
Real specs of Samsung Galaxy S3 remain a mystery but one thing's clear: everyone, including its competitors, expect the best from Samsung after the success of their Galaxy S2. It's only natural for Android phone manufacturers like LG to watch out for their biggest competition and try to match or surpass what they have to offer. Until Samsung announces SGS3 and make its specs official, it's too early to tell whether or not LG's flagship phone could match it. But it's great to see LG put their best foot forward by upgrading an already-premium device to pack even better specs.
via DDaily