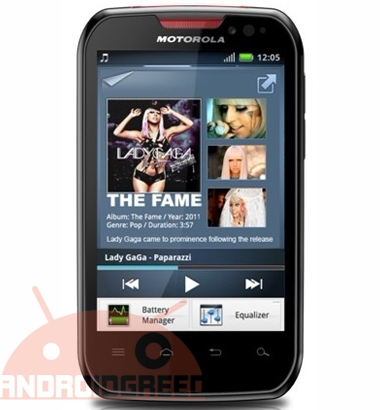 A week ago, Motorola MB866 or "Dinara" showed up once again and made headlines. It was an Android smartphone running the latest iteration of Ice Cream Sandwich. Unlike previous releases by Motorola, Dinara is powered by the LTE-friendly Snapdragon S4. The AT&T version of HTC One X has a similar processor and this gives us reason to believe that Dinara is headed for the same carrier. There is now a new Android smartphone coming from Motorola called XT560 and unlike the reported MB866, it'll be a low-end option based on what we know of it.
Motorola XT560 received an FCC approval earlier this month but we weren't able to confirm that until last week. An FCC approval means it's ready for the US market but no carrier has taken it under their roof. What we do know is that it'll be released in Europe soon and possibly Asia and Latin America thereafter. And today, some of its specs were leaked online along with a photo.
XT560 has an HVGA display, WiFi, Bluetooth, HSDPA 850/1800 MHz, a microSD card slot, and an 800MHz Qualcomm processor. The handset is shipping with Android 2.3 Gingerbread. Without a doubt, Moto X560 will be a smartphone that caters to the low-end market. It takes its design cues from Sprint's Motorola Photon 4G with its curved corners and metal accents. The call speaker has a blood red tint which gives it a fresh and youthful look.
Unless it's selling for less than £170 or €208, Motorola XT560 will have a hard time competing with the likes of Sony Xperia U in the European market.
For these budget-friendly prices, you can get the dual-core-powered Xperia U that's updatable to Ice Cream Sandwich. One advantage it does have is that it has expandable memory but that doesn't give Motorola any reason to price it higher than Sony Xperia U. And while XT560 goes low-end, Motorola MB886 will be a high-end model. It has a full HD display with 1196 x 720 pixels and a dual-core Snapdragon S4 processor. No word yet on its official name or when it will be released but it will likely hit Europe first before the rest of the world.
via Androidgreed