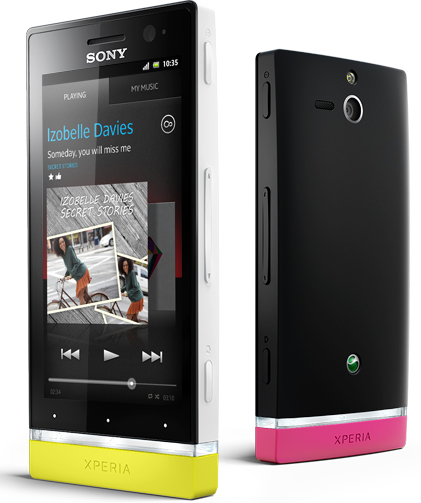 For weeks, Sony's latest lineup has been elusive – including Xperia P and U. Only some of their specs were revealed and Sony gave no word on when they'd be available or how much they would cost. Starting today, you can now pre-order Sony Xperia P and Xperia U at Clove UK. Complete details on specs, pricing, and shipment date are now available. Both smartphones will be sold unlocked and SIM-free. Pre-order begins today and units will be shipped on May 7.
Xperia P LT22i is a mid-tier smartphone but could easily be mistaken as a premier option given its high-end specs. Clove UK is offering it in Black and Silver for an off-contract price of £330 – equivalent to $440 or €336. Design is sleek and elegant so to speak of. It has a scratch-resistant and shatter-proof glass front and a metal back giving you an overall solid-feeling phone. Specs that stand out the most with Xperia P include its 8-megapixel camera, Exmor R CMOS sensor, integrated NFC, and dedicated camera button. Other notable specs include its 4-inch screen – whose WhiteMagic technology prevents from giving you that washed out display under sunlight, 1GB RAM, 16GB internal storage, and 1GHz dual-core processor.
Xperia P may be a midrange handset but it takes 1080p videos with ease. It also has a front-facing camera for video calls. Below the vivid Bravia Mobile display is a transparent bar which lights up whenever there's a new message or an incoming call. The same could be said for the current line of Sony Xperia phones. It's not innovative, but still useful.
Xperia U ST25i is Sony's entry-level offer and doesn't look any different from Xperia P in terms of design. It does, however, resemble Xperia S more when it boils down to build material. The phone is mostly made of plastic but its blunt-edged design gives the illusion of an otherwise-expensive phone. There are two things that make it stand out though – the swappable colored bottom caps and transparent band near the base. Unlike Xperia S and P, its transparent bar lights up in different colors and matches the hue of your display. Clove UK sells Xperia U for half the price of Xperia P and costs only £170 ($273 or €208).
Specs of Xperia U include a 3.5-inch screen with Bravia Mobile display, 1GHz dual-core processor, 512MB RAM, 2GB phone memory, 4GB internal storage, 5MP rear camera with flash, and 0.3MP front camera. xLoud and Sony 3D surround sound helps produce clear and loud audio when playing music and videos.
It does lack expandable storage like Xperia P. Both phones run Android 2.3 Gingerbread and will start shipping on May 7. Sony promises an Ice Cream Sandwich update within Q2 2012.