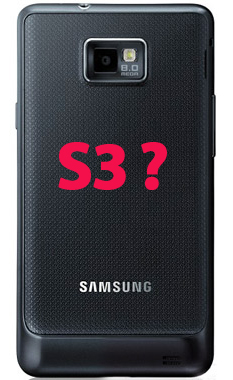 Samsung Galaxy S3 will have a 1.8GHz quad-core Exynos chip, 4.8-inch full HD display, 12-megapixel HDR camera, 2GB RAM, – at least, that's what rumors are telling us. Although outlandish, some of these specs make sense when compared to its rivals. Today's news is a letdown for everyone because SGS3 will be nothing more than a minor update to Samsung Galaxy S2 said CNET, citing an unnamed source from the UK telecoms industry.
"It'll be like what iPhone 4S was to the 4", sources told CNET. Instead of completely upgrading the hardware of SGS2, Samsung will simply bump up its specs and call it Galaxy S3. The source keeps his mouth shut on specs though and doesn't tell which were improved or retained. We could look at its competitors for clues what specs it will pack though. HTC One X seems to be the only worthy rival of Galaxy S3 as of yet. It has a healthy 4.7-inch display, 1GB RAM, and a 1.5GHz Tegra 3 processor. If Samsung were to compete with it, Galaxy S3 should level these specs at the very least. The 1.8GHz processor may be too far off so only the quad-core Exynos chip and 4.8-inch screen seems plausible at this point.
The tech world mourns over today's news more or less. Samsung Galaxy S3 is this year's second most anticipated smartphone next to iPhone 5. If it turns out to be exactly like iPhone 4S – with very few upgrades – not many SGS2 owners would be willing to upgrade their phone and that's 20 million of them worldwide. We can't say the same for those who haven't joined in on the craze though. These are the people that will most likely consider Samsung Galaxy S3 after the huge success of its predecessors.
SGS3 is going to be announced on May 3 at an exclusive Samsung Unpacked event in London. There's no official word yet about iPhone 5 but rumors point to a late year release.
via CNET