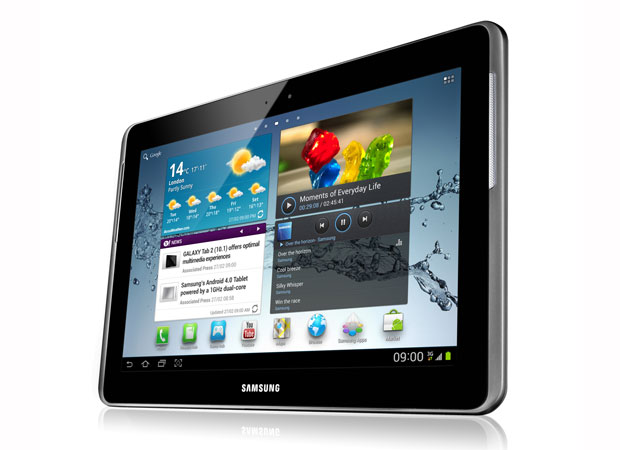 A few days ago, we confirmed a rumor that had been going around for too long. Samsung is going to announce Samsung Galaxy S3 on May 3 at a London event. Members of the UK Press received invites which ask them to "come and meet the new Galaxy." Samsung may not be referring to just Galaxy S3 though. They could throw any Galaxy device for announcement. CNET today reports that Samsung will indeed announce a new tablet on the same day to compliment the launch of their flagship smartphone.
CNET cites an unnamed source who is familiar with the matter. According to their source, Samsung is bound to launch a new 10.1-inch tablet in line with Galaxy S3. The source further indicates that it will not be Galaxy Tab 2 10.1 but that it will have a dual-core processor.
Looking back, Samsung pushed back the release date of Galaxy Tab 2 10.1 just a few days ago. It was supposed to hit the US market this May. When it was first announced, it had a dual-core CPU but the South Korean company decided to replace it with a quad-core processor. Exynos 4412, the same CPU rumored to power Samsung Galaxy S3, will be included in it. Further back, Samsung pulled the same stunt when they said that Galaxy Note 10.1 will be delayed to make way for a quad-core chip. The 10.1-inch Galaxy Note was supposed to ship with a dual-core processor.
It could be that Samsung is releasing a dual-core version of Galaxy Tab 2 10.1 for a lower price. With recent release and great success of the new iPad, it could also be that Samsung will announce a tablet with the same ultra-high resolution. After all, Samsung is the manufacturer behind the new iPad's display and A5X processor so they shouldn't have trouble coming up with a contender. But all these are pure speculations. For all we know, it could be a completely different tablet from those previously rumored. Whatever it may be, let's hope that it doesn't overshadow Galaxy S3 which to everyone's dismay is "what iPhone 4S was to the 4."
via CNET