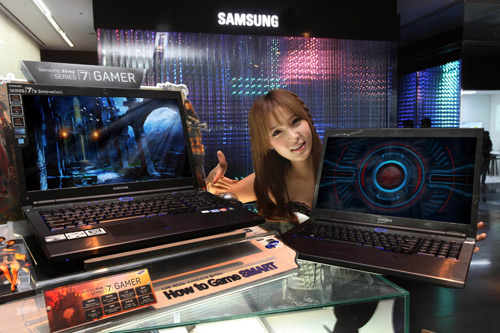 Samsung showed off a Sandy-based Chromebook last month and with the recently announced Ivy Bridge processor, we won't be surprised to see them launch a version powered by the new processor. The US gets some luck today because Samsung Series 7 Gamer is now available in stores for $1,900. Though not a Chromebook, Series 7 Gamer is much more powerful and more suited for high-performance tasks like gaming.
Samsung Series 7 Gamer was first spotted at CES 2012 in marigold yellow. Just as its name suggests, the laptop is geared for the gaming industry. The laptop was initially released in Europe but Samsung decided to wait for Ivy Bridge before they launch it in the US. And this is why the gaming laptop is now available in US stores although stocks are limited to the black color option. The price is slightly higher than estimates from 4 months ago but this is only because it has better hardware. The Ivy Bridge CPU is just one of these upgrades.
The US version of Samsung Series 7 will be powered by a Core i7 CPU – specifically 3610QM. Behind its graphics performance is a non-Kepler discrete graphics card, NVIDIA GeForce GTX 675M with 2GB of video RAM. Without the 28nm Kepler architecture, this model is less efficient at handling power. Asus Zenbook UX32VD is an exception though. Even without a Kepler GPU this ultrabook is power-efficient.
Coming back to Series 7 Gamer, it has a 400-nit 17.3-inch display with 1080p resolution. The 1.5TB 7200RPM hard drive and 8GB flash memory contribute to the speedy boot times of Series 7 Gamer. Battery life is 3.7 hours at its best. Finally, it has 16GB RAM and gets a backlit keyboard.
Gaming laptop Samsung Series 7 Gamer is on sale beginning May 1 in single configuration. It is currently available at Amazon, CompUSA, Newegg, and TigerDirect for $1899.99.