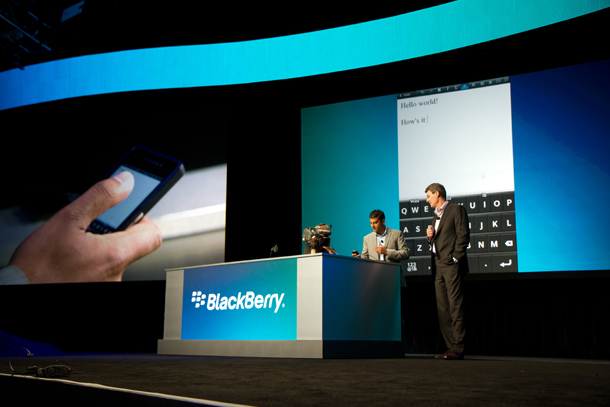 Research In Motion has now officially announced Blackberry 10 OS. The software was debuted at the Blackberry World Conference by the RIM CEO himself, Thorsten Heins. Just as we reported in gadget news, the company didn't unveil any new device. Instead he revealed the key features of their next-generation mobile platform and last glimmer of hope – Blackberry 10 OS.
Keyboard
As you may have noticed, Blackberry 10 Dev Alpha – the developer-only phone – hints the possibility of a full capacitive touch-screen on RIM's next flagship phone. The conference confirms just that where the on-screen keyboard of Blackberry 10 was detailed. Vivek Bhardwaj, Head of Software Portfolio at RIM, said the on-screen keyboard has a "modeling algorithm" tailored to users. It looks pretty much like the traditional Blackberry keyboard without the bulging keys. Several intuitive features have been integrated into the on-screen keyboard of Blackberry 10 OS. If you swipe the keyboard up or down, shortcuts to symbols and numbers will appear. Swiping backwards would delete the last typed word. Word suggestions will appear on top of the letters whenever you're typing and motioning a swipe upward would add them to the message body.
Current users of Blackberry may not be too eager with next-generation devices now. After all, physical keyboard was one of the key selling points of Blackberry phones. But today's market demands for touch-screen smartphones continue to increase. RIM may not completely let go of physical keyboards just yet but launching a full touch-screen phone as their flagship device would make a statement.
Camera
Current-generation Blackberry 7 smartphones have continuous autofocus. Blackberry 10 OS finally brings tap-to-focus on the table as a camera feature. Tapping anywhere on the screen would allow a lens the lens to focus on your desired subject before shooting a picture.
Notifications
The notification system on Blackberry 10 involves a swiping gesture wherein you can access notifications from any app by swiping sideways and keeping fingers on the screen. RIM calls this "glancing." From the notifications sidebar you can choose to continue or leave a running app and switch to another – like multitasking. Swiping gestures also enables users to flow across three apps at most. In order for this to work, apps must be running in real time.