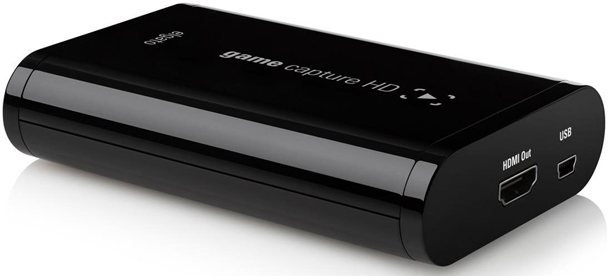 There's no sense in recording video games you play, at least, from an average user's standpoint. But for hard-core gamers it means the world to them. Recording played video games allows serious gamers to examine every move made so they can do better next time. Some also use this feature for creating walkthroughs that can benefit less experienced gamers. And what good are those epic moments if you can't relive them or share them to friends? On Monday Elgato announced Game Capture HD, an ultra-portable device that records gamers' exploits much to their delight.
Design and compatibility
Game Capture HD has a box-shaped form, is made of glossy black plastic on all sides, and is about the shape of a portable USB drive. That way, you can easily take recorded games with you for playback as well as sharing to friends. Great Capture HD is capable of recording games played on game consoles like Xbox 360 and PlayStation 3 as well HDMI- or component video-enabled devices like the iPad. The device is compatible with computers running Windows 7 and OS X Lion with the following specifications.

Elgato Game Capture HD System Requirements

Operating System

Processor

Hardware

OS X 10.7 (Lion)
2.0GHz Intel Core 2 Duo

–

Windows 7
2.0GHz dual-core processor
4GB RAM, sound card, USB 2.0
Hardware
Game Capture HD is capable of recording footages in 480p, 576p, 720p, and 1080i resolutions. On one end is a mini USB port for connecting to a PC or Mac; and an HDMI-OUT for placing it in between the gaming console or device and monitor, as well as the option for capturing footages via USB. On the opposite end are two more ports – HDMI-IN and A/V IN. A/V IN allows connection to a video cable dongle (for PlayStation 3) or component video dongle, both included in the package. Also shipping with the device is a USB and an HDMI cable.
Sadly, Game Capture HD doesn't feature High-bandwidth Digital Content Protection (HDCP) compatibility so it can't record HDCP-encrypted content when streaming videos online. It also can't record progressive 1080 videos though this shouldn't be a concern of gamers.
Software
Elgato is throwing in additional software for Macs and PCs. The Game Capture HD app allows users to tweak settings for recording game footages. From the settings, select the device you want to record a game from, choose the input type (HDMI or Component), set a recording profile (Mobile, Standard, HD 720, or HD 1080), and adjust video quality to Good, Better, or Best. Things like brightness, contrast, hue, saturation, and analog audio gain can also be adjusted in the application before you start recording. Furthermore, you can input the title, game, and tags for description. Once everything is set and devices are properly connected, hit the large red button on the bottom right to start recording.
Forgot to press record? Don't worry. The application has a Flashback record feature wherein it actually starts recording as soon as you launch it. We don't know how long this buffer will last though. Post-process editing is also possible with the app. Entire footages can be slipped into separate clips and parts can be deleted. After some editing, recorded games can be shared to Facebook, Twitter, or YouTube; shared via email; or exported to your iPhone, iPad, or Apple TV.
Verdict
Game Capture HD is truly a must-have for serious gamers who want to record and share their greatest moments, or perhaps help newbies in their endeavours by creating walkthroughs. The device itself, which offers multi-platform support, is truly commendable. After all, gamers these days are no longer limited to traditional game consoles like PlayStation and Xbox. The full-featured app that comes with it is more than useful. Elgato is selling it for $200.