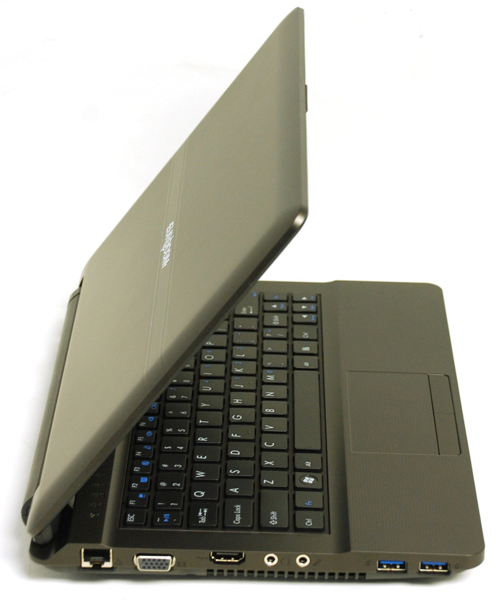 Gaming laptop Alienware M11x was pulled out of the shelves and replaced with a larger, 14-inch model – M14x. It was a good replacement model and filled in our needs for a larger screen and keyboard. But who was to say no one loved the idea of an ultra-portable gaming laptop? Truth of matter is, many were disappointed by the recall of Alienware's 11-incher. Origin PC picked up where Alienware left off with EON11-S and so did Maingear with Pulse 11. More recently, Eurocom launched W110ER Monster 1.0 to fill in the shoes of M11x.
Monster 1.0 may be an Intel-based laptop but it's no Ultrabook. Like the newly released Asus G75VW, it has a certain bulk to it which makes it less-pleasing to put on your lap. Eurocom classifies it as an ultra-portable laptop and that's just right since it weighs only 4 lbs and has an 11.6-inch screen. It's not exactly light but the heaviest ultra-portable laptops do weigh 5 lbs. Besides, it's still easy to carry around given its small screen size. "Ultra-portable" also means that W110ER Monster 1.0 has powerful specs – above average, to be exact.


The hardware of Monster 1.0 can be configured to your liking except for the Kepler-based GeForce 650M which comes as a standard option. The lowest configuration will cost you $825 and includes Core i5 2410M, 4GB DDR3-1333 memory, and 500GB. Upgrading to Core i7 3820QM, 16GB of DDR3-1600 memory, and 1TB of storage means that W110ER comes with a $2,123 price tag. The laptop can also be upgraded to SSD from HDD but this will cost you extra. As for its display, glossy finish is a standard. An additional $125 will get you a matte, anti-glare screen for better viewing experience outdoors.