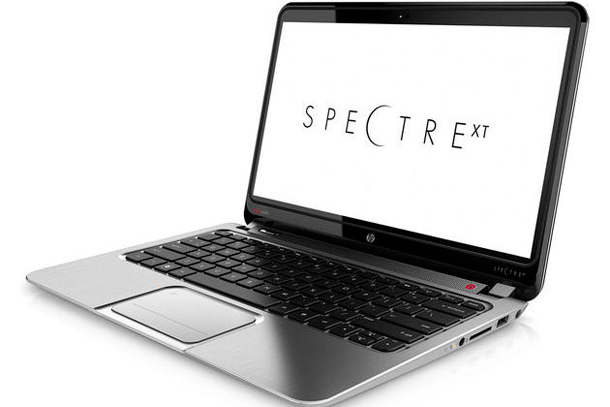 HP has a new line of Intel-powered Ultrabooks for 2012. Leading the way is the 13.3-inch Envy Spectre XT. While it doesn't have the same screen size as Envy 14, it makes you wonder if it's worth looking forward to considering that it's from the same line. Here's our first impressions on HP Envy Spectre XT from CTIA 2012.
Design
Envy Spectre XT undeniably has the same premium feel as Envy 14 Spectre but for some reason, HP ditched the original Gorilla Glass body for metal and brushed aluminum. The only Gorilla Glass in sight is the touchpad, a design consistent with HP's new line of Envy Ultrabooks. It doesn't improve sensitivity but you'll certainly appreciate the smoother surface. How it tapers to a narrow back reminds us of MacBook Air. At some point it even resembles Dell XPS 13 because of its soft-touch base. But its slim profile is unmistakable, weighing only 1.39kg.
Layout of the Function keys is the same as other Envy Ultrabooks. Unlike previous models, Function (Fn) keys can now be used for toggling multimedia options, wireless network connectivity, and screen brightness. Finishing its premium build is a backlit keyboard only available as an option to others from the Envy line.
Hardware and features
The 13.3-inch screen of Spectre XT has a screen resolution of 1,366 x 768 pixels. It is more than adequate but pales in comparison to Asus Zenbook and MacBook Air. Without the option to upgrade, consumers are limited to this screen resolution. Staying true to the Ultrabook formula, HP Envy Spectre XT will be powered by Intel's Ivy Bridge processors and contain hardware similar to its rivals. That includes integrated graphics and the option to configure an SSD with up to 256GB of storage. Not to be missed is its lack of an optical drive common to all Ultrabooks.
Spectre XT has a grand total of four speakers – two in the front grille and another two on the underside. We were initially impressed by news of Beats Audio technology built into Spectre XT but there wasn't much difference on sound quality. On its left side is an SD card reader a USB port, and power/HDD indicator lights. Separate ports for HDMI, USB, and Ethernet are all lined up on the right side.
Verdict
The future isn't looking good for HP Envy Spectre XT. A starting price of $1000 means it faces serious competition, particularly Asus Zenbook UX32VD which has the same 13.3-inch screen but with full HD resolution. It's a good option, but not great enough to stand out.