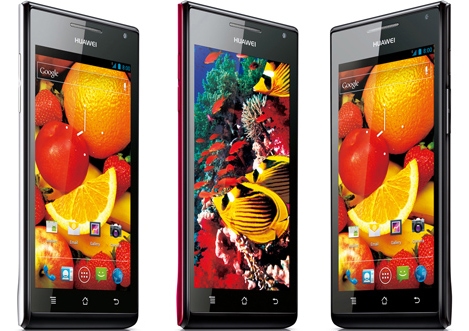 Ascend D Quad is one of the most awaited devices to come out of Huawei but they won't launch it until July. And when it does, it will have hard time penetrating the market to compete against the likes of LG Optimus 4X HD, HTC One X, Sony Xperia S, and Samsung Galaxy S3. Until then, we have Huawei Ascend P1 to keep us busy. It doesn't match up to the specs of Ascend D Quad but that doesn't mean it has flimsy hardware. Now if only Huawei released it in 2011.
Design
Huawei Ascend P1 has the size of a 2011 high-end smartphone but incomparably slimmer. As a matter of fact, it's sleeker than today's thinnest phones as it measures only 7.6mm in thickness. HTC One S, the thinnest phone from the HTC One series, measures 7.8mm. Most smartphones have a metallic rim surrounding the edges but there's no sign of it on Ascend P1. Instead, the back cover stretches towards the sides to meet the front panel.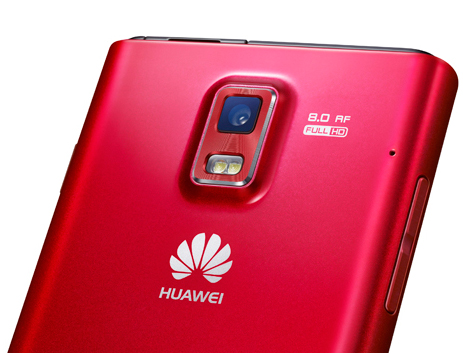 The back is made of glossy plastic and there doesn't seem to be any way to remove it or the battery. Everything is accessible from the sides and by that, I mean the microSD slot and SIM card drawer – along with other essentials like the power button, volume rocker, 3.5mm jack, and charging port. This gives us more reason to believe Ascend P1 has a non-removable memory. For navigation, Huawei opted for touch-sensitive buttons situated below the display.
Build quality is good overall. Plastic makes it feel cheap and less premium than it's supposed to be but this comes at the advantage of making the phone thin and light. It has an attractive design which although borrowed from Sony Xperia S and Galaxy S2 combined, is something that users won't mind.
Hardware
Huawei was generous on screen size by including a 4.3-inch display on Ascend P1 but we couldn't say the same thing for resolution since it only has 960 x 540 pixels. The phone does have Super AMOLED display which makes the lack in HD resolution barely noticeable. Holding up the phone's processing is a dual-core TI OMAP 4460 clocked at 1.5GHz. It has 1GB of RAM, 4GB internal storage, and a microSD slot for expandable memory. The 8-megapixel camera with flash on the rear is enough for taking good photos and if you want to make video calls or capture self-portraits, there's a 1.3-megapixel camera upfront.


Software
An unskinned version of Ice Cream Sandwich is preloaded to Ascend P1 which means you can enjoy Android 4.0 in pure goodness. Huawei did make a few tweaks on the notifications drawer and lock screen but did so without veering away from the standard ICS Holo Theme.
Verdict
Huawei Ascend P1 won't be able to compete with the top dogs but it's a really good phone. At 4.3 inches, it has just the right size. Couple that with decent specs and a pure Android experience, and a presumably cheaper price than its competitors, what you have is a great alternative to standard smartphone choices.