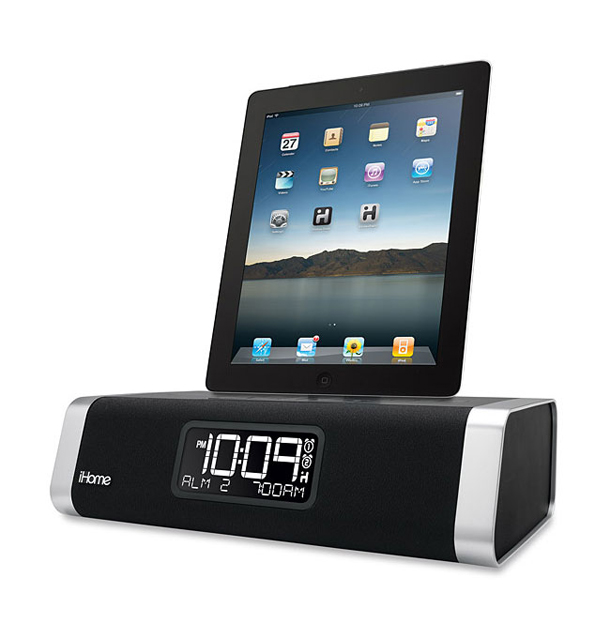 Speaker systems will never be a thing of the past unless Apple manages to improve audio quality on their iPhone, iPad, and iPod Touch. Loudness of sound is one thing that Android gadgets are better at. Android devices do have a major flaw and that is battery life. When playing music or videos in loud speaker, they easily drain. iHome added iD50 in their wide range of speaker systems to deliver audible audio without sacrificing your device's battery life. It is on the lowest-end point of iHome products and sells for $169.99. Call it old-fashioned for relying on Bluetooth for audio streaming but iD50 is a handy wireless speaker nonetheless. And it does much, much more than that too.
Design
iHome iD50 is no compact speaker system. Its size reminds me of the original PlayStation except it has a trapezoidal body. Sitting atop are control buttons, a 30-pin dock connector, and a stand for supporting an iPhone or iPod Touch. Right in front is a display with bluish LED for showing the date and time. Around the back is a power connector and AM/FM antennas. It is best suited for home environment but you can also use it in the office.
Features
iD50 is primarily designed for iPhone and iPod Touch but it is compatible with iPads and Android phones or tablets. It has a 3.5mm auxiliary input and supports wireless audio streaming via Bluetooth. iD50 also has a microphone built into it which means you can use it as a speakerphone for all Bluetooth-enabled phones. When you plug in your iPhone, iPad, or iPod Touch into the 30-pin connector, iD50 will automatically set its clock based on the time of your device. Let's not forget that it can charge your iDevice through its dock. You can leave your device on it overnight or during a conference call to keep it fully charged. The device has a built-in alarm clock for helping you wake up on time. It can also function as a stand-alone AM/FM radio player.
Perhaps the greatest feature of iD50 is the option to install applications for added functionality. There are three apps in total: iHome Set, iHome Sleep, and iHome+Radio. The iHome Set app enables you to set two alarms, sleep timers, assign radio presets, and set the equalizer. iHome Sleep offers advanced alarm clock settings by monitoring your sleeping habits. iHome+Radio adds Internet Radio functionality but this app will cost you extra. But you can still stream Internet Radio from your smartphone or tablet for free via Bluetooth connectivity.
Performance
iHome iD50 fairs average in performance. It delivers clear and audible audio. Unfortunately, bass leaves us unimpressed with flat bass notes getting distorted. Another drawback is when you turn up its volume up. This would rattle iD50 and the device attached to it. To prevent rattling, you have to stream music via Bluetooth or avoid pushing volume to the max.
Verdict
iHome iD50 isn't your average speaker system, giving you more than you bargained for at $169.99. Despite a few setbacks, it's a conventional choice given its all-around functionality. Besides using it to play music and Internet Radio wirelessly or via the 3.5mm auxiliary input, you can use it as an alarm clock, a charger, and an AM/FM radio.