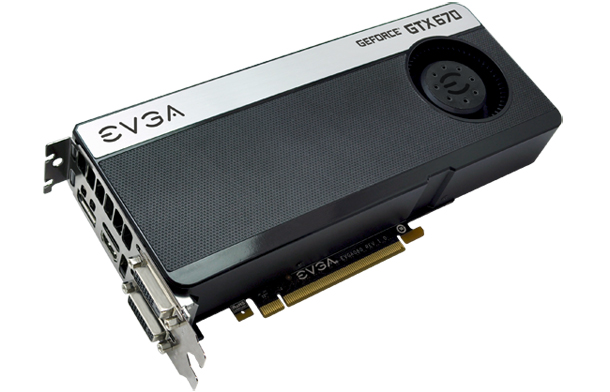 At the peak of NVIDIA's graphics cards is GK104, better known as Kepler or GTX 680. GeForce GTX 670 is still Kepler in its essence but with less power and a cheaper price. It rivals AMD Radeon HD 7950. NVIDIA claims it is more powerful than the best AMD processors and we are here to find that out.
Design
It's rarely that we see top-tier graphics cards come in slim packages and GTX 670 is just that. It is compact and lightweight much like GTX 680. It measures only 7 inches long if we exclude the PCIe bracket. GeForce GTX 670 is equipped with one DisplayPort, one HDMI port, and two separate DVI outputs. Shown off during its unveiling is a dual-slot design but NVIDIA remarks some of their partners are opting for single-slot options.
Technically speaking, GTX 670 is GTX 680 because it uses the same GK104 chip. Unlike 680, it has one Streaming Multiprocessor (SM) unit turned off and reduced to 112 texture units from 128. It does keep the 32 ROPs of GTX 680, staying true to its roots.
Specs
GTX 670 has 12% less cores. 192 CUDA scores were nicked off, to be exact, in favor of the lower price point. It is also clocked at the lower 915MHz frequency making it 12% slower than GTX 680. These downgrades are minimal and keeps the graphics card on top-chart performance.
Performance
NVIDIA GeForce GTX 680 underwent preliminary benchmarks and was compared to GeForce GTX 580 and Radeon 7950. It was first tested with 3DMark7 to assess how it performed against its predecessor and rival.
3DMark7 Benchmarks
Scores (Higher is better)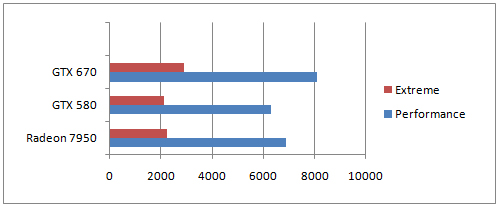 Results were slightly different in real-world tests and varied across games but it outperformed Radeon 7950 and GTX 580 on most occasions.
Power Consumption
When it comes to power consumption, GeForce GTX 670 does justice to GTX 680. It is at par with Radeon 7950 based on 3DMark7 benchmarks. 230W is a significant improvement from the 340W consumption of GTX 580. In separate tests, it was placed under Idle Power and Display-Off for 10 to 15 minutes and averaged at 100W. And during Average Load System Power, it consumed an average of 247W. In all three tests, GTX 670 garnered almost similar results as 680 and missed only by a few points. Overall, power consumption tests show that GeForce GTX 670 doesn't yield the best results but they are certainly promising.
Power Consumption in Watts
*10 minutes on Windows Desktop for Idle Mode, 15 minutes on Display-Off
Scores (Lower is better)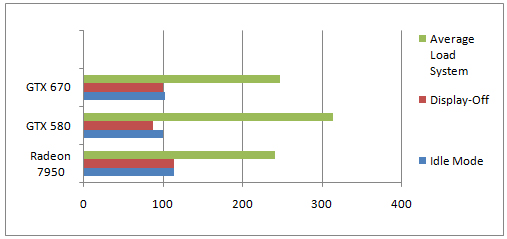 Verdict
GeForce GTX 670 carries the legacy of Kepler in design, performance, and power consumption. But unlike GTX 680, it has a more affordable price. At this point, NVIDIA seems to have the upper hand in overall performance and cost. NVIDIA is selling it for $399.