Japanese manufacturer Kyocera unveiled two Android smartphones shortly before CTIA 2012 – Hydro and Rise. Kyocera Hydro is a rugged phone and as you should've figured out by now, is a water-resistant device. Meanwhile, Kyocera Rise is a touch screen option with a sliding QWERTY keyboard. We get a closer look at them at CTIA 2012 where both were shown off.
Kyocera Hydro
Kyocera Hydro uses the same technology from the company's Dura series of smartphones. For years, this water-resistance technology became a standard in Japan. With that being said, Hydro will be the first Kyocera smartphone sporting the same feature to hit the US. And because this technology has been existent for years, it should pass flying colors in matters of durability.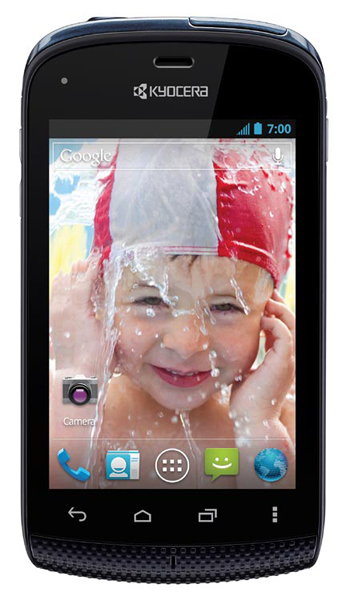 To be specific, Hydro has IPx5 and IPx7 water resistance ratings. The phone can take a good soak in the tub or be exposed to rain without any damage. The phone is splash-resistant and can be submerged in water by up to 30 minutes. Do all these come with a design sacrifice? You bet. For instance, Hydro is no thin phone and buttons don't stick out enough. The prototype shown off at CTIA 2012 also feels plasticky but this may not be the final model. But Kyocera hit a good note by making Hydro small and pocket friendly – about the size of your palm. Its rounded edges and curved back make it even easier to hold and slip into your pocket.
Below the display are four touch-sensitive buttons for navigation. They imitate the on-screen icons of Android 4.0 Ice Cream Sandwich which happens to be the phone's mobile platform. User interface is close to a raw ICS experience but Kyocera made some changes. The lockscreen gains a camera shortcut which is extremely useful and there's an "Eco Mode" for controlling settings that could affect battery life. Known specs of Kyocera Hydro include:
• 3.5-inch capacitive HVGA LCD with 480 x 320 IPS display
• 3.2-megapixel rear camera with LED flash
• 1GHz Qualcomm Snapdragon processor
• 2GB ROM
• 512MB RAM
• microSD slot expandable up to 32GB
• WiFi
• Bluetooth
• USB 2.0
• Three axis accelerometers
• CDMA 850/1700/1900 MHz
Kyocera Rise
Kyocera Rise shares the same specs as Hydro including the 3.5-inch screen, 3.2MP camera, 1GHz processor, compatibility with CDMA 850/1700/1900 MHz, and so on. It is classier and more middle-end looking than Hydro but this comes at the expense of water-resistance. You can't expect Kyocera Rise to rise up and survive accidental dropping in water. Unlike Kyocera Hydro, Rise feels less plasticky and more solid. Its top and bottom edges are curved while longer edges are blunt. When used in landscape, sliding up the screen will show a four-row QWERTY keyboard. Keys are spaced which makes typing a breeze.