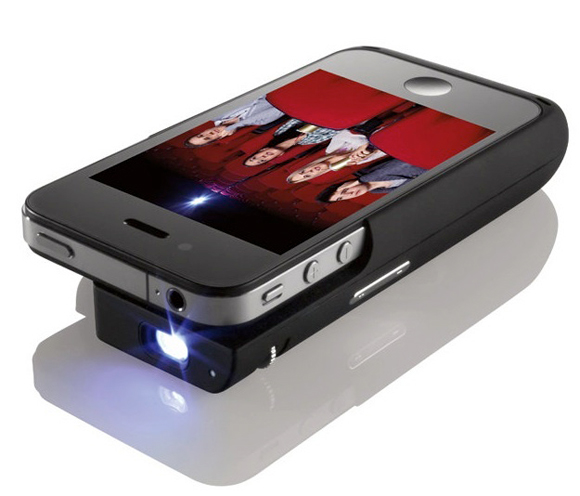 Jealous of Samsung Galaxy Beam and its built-in projector? Don't be. You can also turn your iPhone into a projector with the help of PoP Video. The device was developed by Micron Technology and connects to the iPhone for displaying files on a larger background. It has a 30-pin dock connector for compatibility with iOS devices like the iPhone 4S, iPhone 4, as well as third and fourth-generation iPod touch.
PoP Video is an iOS pico projector currently available as a pre-order for $99. It is sleek and portable, making it the perfect accessory to compatible iOS devices. Use it for sharing moments – project photos and video clips on the wall for family and friends to see. You can also use PoP Video for projecting your favorite TV shows and movies. It's easy-to-use, supports qHD resolution playback, and has up to 2 hours of battery life. Only half an inch thick, your device would easily slide into your pocket even if it is attached. Following is a more in-depth look on device specifications and features.
Specifications
• Dimensions: 0.5 inches thick
• Input: 30-pin dock connector
• Video output: qHD resolution (960 x 540 pixels)
• Playtime: Up to two hours when fully charged
• Battery: Built-in rechargeable Lithium-ion battery
• Charging: Micro-USB (1.2 compliant)
• Charge time: 4 hours
Package includes
• PoP Video device
• User manual
Requirements: iOS 5.0 or higher
To access features, you need to download and install the PoP Video app available at the Apple App Store. The app is free and allows you to project non-MPEG 3 protected videos downloaded off iTunes as well as those direct from your Photo Album. Display photos individually or in slideshow mode, browse the web, and show off social media like Facebook and YouTube. You can also use it to project and magnify documents for better viewing. The PoP Video app lets you control display settings too like brightness, colors, gamma, and sharpness.
Verdict
If you like to view and share images, videos, and do web browsing on a larger screen without having to spend hundreds on a larger device, $99 is a bargain for PoP Video. It turns compatible iPhone and iPod Touch devices into portable screen projectors.